A brilliant, dignified teacher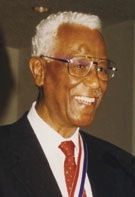 A brilliant, dignified man has left us, but the model for success which he taught us as he lived and worked among us is not one to be forgotten anytime soon. Indeed, when we look at his humble beginnings, review his steps to success, study his philosophy for living, we will realize our good fortune in ever having known him, and we will cherish the memories of any time we were able to spend with him. Emanuel Max Wellington Stewart wore many hats in his lifetime. The remarkable thing about these hats, or the positions they represent is the fact that they all fit, all of the time. Not one person this writer encountered could speak a negative word about him as they related how he had somehow touched their lives over the years. Stewart was truly a remarkable man, and he leaves the kind of memories that deserve to be written about and posted in a library or displayed in a museum, or both. "He can be summed up as an all around, straight-shooting fellow who brought honor to everything he was associated with," said Clarence Givens, one of Stewart's classmates at Florida A & M University.
Stewart's life began in Marion County, FL where he was born. His 93 years of living took him far from Ocala, FL, many times, but he never lost sight of who he was or from whence he had come. He and his wife traveled extensively, learning about the cultures of Eastern and Western Europe, Russia, India and other Asian nations as well as Australia, New Zealand and Egypt, His genteel ways, learned at his mother's knee and cultivated by the diversities of life he and his siblings experienced gave him the special temperament he needed to co-exist with other cultures and conquer the ills of the world as he met them. And, he met them head-on, during a time when any task he accepted faced seemingly insurmountable obstacles. Yet, Stewart met every challenge. Overcame them all. Moved past them. And he was successful, each time. Through his lifetime, he followed the admonitions of his parents to be an honorable, self-reliant, man.
Always a good student, Stewart received a teaching certificate upon the completion of high school and began his career as an educator. He taught elementary school and attended college during the summers. Then, World War II erupted, and he was drafted into the Army in 1941 to serve his country. Stewart had basic training at Camp. Blanding in Florida.. Immediately, his leadership ability was noted, and he was sent to Officers Candidate School at Fort Benning in Columbus, GA. Stationed in numerous places across the USA, his conversations about the places he went as a soldier still echo in the mind of his son, Christopher, who enjoys looking through Stewarts's impeccably designed scrapbooks and journals. "My dad was stationed at bases in Mississippi, Louisiana, Arizona, and California. His overseas experiences were in the Pacific Islands, the East Indies, New Guinea and Guadalcanal. Part of that time was on land, but he also spent time aboard the USS General John Pope and the USS General Howze. He kept written records of all the places and people from each assignment," Christopher Stewart related. Following his time in California, First Lieutenant Emanuel M.W. Stewart ended his tour of duty. After five years, he was a civilian again.
Shortly after his discharge from the Army, Stewart entered Florida A. & M. University as a junior. There, he completed his undergraduate studies and received a BA degree in education. He also met the college beauty who became his wife. As related by Mrs. Chrystelle Stewart, "He was walking across the campus when I first saw him. He was so tall and handsome that it took my breath away. I just had to meet him! We lived in a time that forwardness was not becoming to a young lady, however. Humph, I admired him from afar for a short while, but I soon maneuvered an introduction. And the rest — as they say — is history." As a senior, Mrs. Stewart graduated that year and returned to her hometown, Marianna, FL to teach. Stewart, meanwhile, continued his studies and graduated the next year. He began graduate studies that summer, but he accepted a teaching position in Pinellas County that fall. Both of the Stewarts earned their masters degrees at Columbia University in New York. They were married in the university chapel five years after they met. This year, 2011, marked sixty years of marriage. They are the parents of two sons, Daryl and Christopher, and they are grandparents of one grandson, one granddaughter, and five great-grand children.
Those who worked with Emanuel M. W. Stewart the educator knew a disciplined individual who loved people as much as he loved knowledge. His first Pinellas County School Board appointment was as an elementary school teacher in Tarpon Springs. He transferred to Jordan Elementary School, where he taught for a year before being appointed as the principal. Stewart remained at Jordan Elementary for ten years. Then, he was assigned as principal at Gibbs High School.
One of the first students Stewart worked with at Jordan Elementary School was Nancy Herring Harrell. To her and her classmates, being in his class was a phenomenal experience. "We had never had a male teacher before Mr. Stewart! He taught science, and for the first time, I heard the word barometer. I loved the sound of the word. After he explained that it was an instrument used to produce information about the weather, I became one of his most serious students. He seemed to know everything," Harrell related.
The Gibbs experience was quite different. Overseeing construction of a new building, hiring new teachers, and re-designing the curriculum to meet standards for full accreditation were all challenges he faced. But he and the faculty persevered. Strong academic departments, new programs, honor students, and full accreditation were achieved, in spite of the odds. Everything he did followed a structured plan which was carried out with deliberation and care. The needs of the students were always foremost in his plans.
Foreign language teacher Charley Williams, now an accomplished educator/administrator (retired) himself, admired Mr. Stewart's style and saw him as a role model for teachers and students. "Mr. Stewart felt that the boys at Gibbs High School needed role models, so male teachers were expected to assume the role. We dressed the part every day. All male teachers dressed neatly and wore neckties. He hired me to strengthen the foreign language program by adding to the Spanish classes and starting French classes. I appreciated his confidence in me and his efforts to improve whatever he worked on in the county," said Williams.
Retired school administrator, Anthony J Thurston, who was hired by Stewart to teach speech and drama, acknowledged that "I have always been impressed with him and tried to emulate him. Clearly seen was his quiet demeanor, the way he went about doing things. His advice was always exactly what was needed. All of my experiences with him were positive. He respected my judgment in the selection of materials to present to the students. I knew that he expected me to present new or controversial topics in a tasteful manner, so I worked hard not to disappoint him. He was also a fraternity brother and fellow church member."
Stewart's expertise as a visionary and astute planner was evident in all facets of his life. Within the community, he was involved in the Ambassadors Club, an organization of African American men who worked with men and boys within the community to make life better for those who needed the extra push. The organization promoted cultural activities and fundraisers to elevate the mind and spirit while providing means for boys and girls in the community to attend college. He was also one of the charter members of the local chapter of Alpha Phi Alpha fraternity, an organization that prides itself on scholarship and leadership among men. Stewart embodied the true Alpha spirit, holding every office in the chapter over the years, as he advised and mentored his brothers. He knew the Alpha history and how to keep the group grounded. They were his former students, colleagues, and friends. Other Tampa Bay chapters also respected his leadership and knowledge. Known all over the nation, Stewart attended state, regional, and national fraternity conventions for nearly 70 years.
The very first African-American selected and honored as "Mr. Sun" in St. Petersburg's Festival of States celebration, Stewart continued to use his successes to inspire young people. He accepted numerous speaking engagements to motivate Pinellas County's students to use the opportunities before them to go as far as they could go. He was a member of the Rotary Club and served on several boards of directors, including the Salvation Army, the Pinellas County Urban League, the YMCA, Bayfront Medical Center, and the Police Athletic League. Stewart was honored by the National Conference of Christians and Jews for his contributions to education and humanity at large.
When it came to hobbies, he had a passion for growing things. He kept an exquisite lawn and flower garden. After retirement, he plowed up the whole back yard and planted a vegetable garden. Everyone loved his tomatoes. Gardening allowed him to recharge.
"Structure and order are what I think of when Emanuel Stewart's name is mentioned," noted Rev. Wayne Thompson. "Although he could be humorous at times, he generally took a serious approach to whatever he did. As a student, I saw how he insisted on activities that showed what students had learned. He believed in advocating for students, but he did not hesitate to apply the 'board of education' when students were out of order or unruly," continued Thompson, a former student, a fraternity brother, and his pastor. Regarding church attendance, Thompson said, "Stewart was a member of the First Baptist Institutional Church congregation for more than fifty years. During that time, he served in every official capacity except pastor. He was made a "Deacon Emeritus" a few years ago when he was no longer able to attend church every Sunday. Prior to that time, Stewart never missed church or Sunday School, unless he was out of town on official business for his job. He loved attending church, and he loved First Baptist. You could depend on him to step up whenever and wherever he was needed. We owe him so much for being a member who could and would provide great counsel. The entire congregation loved and respected him. He was even a mentor and role model to me. Until the end, we started the day with a telephone call and prayer."
September 7, 2011