Elementary special-education teacher is one of a kind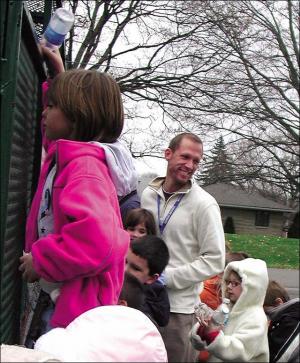 His students call him Mr. French Fry.
Their parents call him "wonderful."
And, whoever you talk to, the man who calls himself a "big kid at heart" is having a big, wonderful effect on the students of Greenville Elementary School.
"I can't think of myself doing anything else," said Tim French, the sole man among 40 special-education teachers within Floyd County's elementary school system. "I absolutely love working with kids. I am just a big kid at heart and feel this is what I am supposed to be doing with my life."
The Louisville native holds a bachelor's degree in elementary education and master's in special education from IU Southeast. In his seventh year at Greenville, the affable
6-foot-3-inch 29-year-old with the uncanny resemblance to renowned cyclist Lance Armstrong fosters students' physical and academic fitness, coaching sports from basketball to cross country and boys' volleyball.
"It's people like Tim that make it all worthwhile," said Principal Harlan Uhl, who encouraged the then-fifth-grade teacher to pursue the specialization five years ago. "He's very caring and very dedicated and able to work with all types of kids, quickly seeing their strengths. Not everyone can do what he does. All the kids look up to him, especially our young men."
"He's the only guy teacher I've ever had," says one fourth-grader whose math skills have multiplied under French's tutelage. "He's so nice. He's very kind and calm."
Eleven of 86 Floyd County special-education teachers are men, said Glenda Hott, director of Student Support Services for the New Albany-Floyd County Consolidated School Corporation.
Indiana Special Education Rules define their students as those with "individualized needs above and beyond what the general education environment can support on an ongoing basis." There are 2,163 such students attending Floyd County schools, including 1,044 at the elementary level and 30 among the 350 total enrolled at Greenville.
But "special education" can be a scary label and is avoided at Greenville which, like an increasing number of schools countywide, incorporates these students into the general population so that, French said, "kids don't know who's who."
French simply describes them as children who "learn differently," because of attention problems, physical disabilities, autism or other learning issues. The challenges differ from child to child.
"We look for ways to accommodate these kids and adapt the curriculum so they 'get it,'" French said. "They're very responsive and appreciative. They have so much to offer. It's exciting to see their progress."
"I feel my child and the other students have been blessed to have such a caring, male teacher," attests "a very thankful parent" whose gratitude prompted an impassioned fax to this newspaper. "This is just one way I feel I can thank Mr. French for the job he has done!"
Ask French, and the thanks come from seeing the children's successes, every day: "It is just awesome to see them grow as students and as people."