From art student to teacher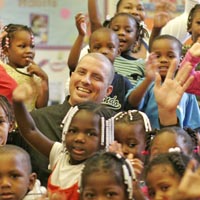 John M. Holland, 38
Child Development Specialist, Richmond Public Schools
As an art student at Virginia Commonwealth University, John Holland didn't see it coming. Shortly after meeting his wife, Jonah, he took a job as a substitute teacher in Richmond to pay the bills. He's been in the classroom ever since.
"It basically came down to start my own house-painting company or teaching," he says, which was an easy choice: "Every interaction with a kid I felt like I was doing something."
Holland subbed all over the city, and finally got a job as full-time preschool teacher at Chimborazo Elementary School in 1997. There was a pupil whose mother had a heroin addiction and landed in jail during the fall semester; another whose great-grandfather was shot and killed by a grandson; one who wore leg braces and had an illiterate mother, and by age 6 was teaching her mother how to read.
One of the country's few nationally certified male preschool teachers, Holland is working on his doctorate in educational leadership at VCU. But he's learned as much, or more, by visiting with pupils' families in such places as Gilpin Court. "If I went to their house," he says, "they were much more willing to share and connect with me."
After a recent promotion, Holland's out of the classroom and training and supervising other pre-k teachers, and writing a blog on related issues for Pew Charitable Trust.
Perhaps most rewarding is running into parents of former pupils, like the parent whose son, a math whiz, was initially a troublemaker and didn't want to work.
"Don't let him fool you, he can totally do this," Holland told the boy's mother. "He's [now] in the seventh grade, taking advanced math at Albert Hill Middle School."
October 13, 2009