From trucking to teaching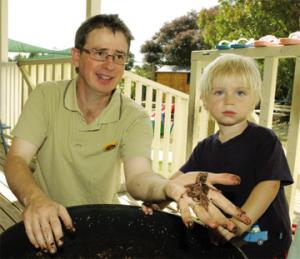 Former truck driver Adam Buckingham reckons he has a few life skills that he can pass on to young children.
The Auckland man switched careers following a workplace accident and says that, after recuperating, he wanted to find a way to give more back to his community.
Adam had previously volunteered as a scout leader and had young children of his own, so teaching young children seemed like a good fit. Three years later, he hasn't looked back.
Adam says he can draw on his past experiences to enrich curriculum delivery – introducing little ones to DIY-type activities, woodwork, and showing them how things work. He says it is not a case of men doing things that women can not, but rather that male teachers can bring a different dimension to children's activities.
Men and women are in the same boat, trying their best to deliver the early childhood curriculum, he says.
Adam says it is important that young children grow up seeing men acting in positive ways.
"A child needs to see a male role model in their life. Children need to see that we can nurture too."
He says the job has a lot of rewards. He loves to see children grow and build their knowledge. He likes to share his values with them and show them that men have a caring side.
But his work is not confined just to the children at his early childhood centre. He also organised a fish and chip night for fathers to get them along to the centre and engage with their children's learning.
In addition, through the Auckland branch of Men in Early Childhood Education (New Zealand), Adam helps student teachers find their way around the profession.
He says the branch meetings allow students to ask questions of male peers when they are unsure about an aspect of practice.
After three years in the job, Adam says his female colleagues do not see him as any different to themselves but he understands the position of men who are newcomers to the sector.
"I'm just another teacher, I'm not seen as anything different but as a student teacher you are still finding your way on what is acceptable and not acceptable."
He says the national network has allowed contact with a wider circle of male teachers, including those from smaller regions. Members use email and the website to foster dialogue.
"There's one man in Gisborne and he has no others around him so this contact is key for people who are isolated."