Jimmy Lee Day II – Colorado Teacher of Year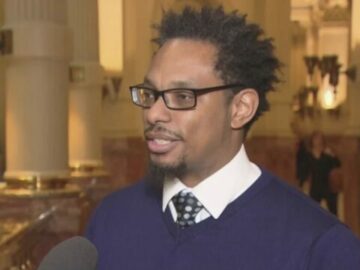 Jimmy Lee Day II, a teacher at East Middle School in Aurora, CO, was recently recognized as the state's first Black male Teacher of the Year, according to CBS Colorado.
"From classroom management to how I rehearse my students to how I want my expectations – it's consistent, it doesn't change, it's unbending and then my connection – me making myself human just like you and we make connections," Day said.
Day is the band director and instrumental music teacher at East Middle School, where has taught since 2017, CBS reported. Day has been an educator for more than a decade. He rebuilt three band programs that went on to be award-winning bands.
Day, a former Detroit teacher, recently spoke to Chalkbeat.
"When I was studying music as an undergraduate at Tennessee State University, I took some courses that required practicums — we would go to a school and observe a teacher teach their class. These really ignited my passion for teaching instrumental music to middle school and high school students."
Day added, "There were two incidents that made it clear that I was destined for teaching. One time, there was a middle school trombone student who was struggling with his music. The band director brought it to my attention, and I asked if I could assist the student since I was a low brass instrumentalist. I worked with the student one-on-one. It was clear that he was not identifying the correct positions on the instrument to play the notes correctly. Once I pointed that out to him, he instantly experienced success and was grateful for it.'
He continued, "Another time, I was allowed to run the class. I rehearsed with the students to get them prepared for their winter concert. The director mentioned to a coworker that the band sounded better after my time with them."
March 17, 2023