More men applying: Meet Donnie Dupree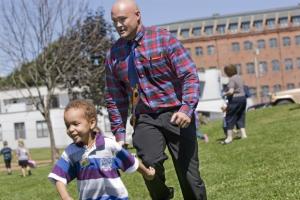 by Kimberly Primicerio – MyRecordJournal.com in Meriden, CT – USA
Donnie Dupree is not your typical elementary school teacher. For starters, he's male.
Dupree is a first-year kindergarten teacher. He taught in the district last year as a long-term substitute in the first grade and was hired at the end of last year to teach at Israel Putnam School. He's the district's only male kindergarten teacher.
"They're so enthusiastic," Dupree said about teaching small children. "They're excited to learn and they want to learn."
Dupree doesn't mind being the only male kindergarten teacher. He embraces it. According to central office, there are 340 elementary school teachers, of which 34 are men. Dupree isn't sure why it's so rare for a man to take on the role.
Dupree, who is at least six feet tall, sat in a chair fit for a 7-year old last Wednesday afternoon in his kindergarten classroom decorated with alphabet cut outs and a giant caterpillar rug. He had just finished his first day as a full-time teacher. Dupree, who speaks with a southern accent, said he would spend a couple more hours that day setting up his classroom. Wearing a Scooby Doo tie, Dupree, 38, said the day was filled with introducing students to the classroom, familiarizing them with the rules and playing some fun games outdoors.
While Dupree has found success and his passion in Meriden at Israel Putnam, getting there was no easy task. Dupree grew up in Georgia with five siblings. His mother died in a car crash when he was 12 years old and he was raised by his grandparents.
"I'm the first male in my family to finish high school and college," said Dupree, who now lives in Wolcott with his wife and four kids.
It took Dupree six years to graduate high school. He was 21 at the time. It wasn't until he graduated from Central Connecticut State University that Dupree was comfortable talking about his high school experience.
"I was embarrassed," Dupree said. "But now I'm proud of my accomplishments."
Dupree's upbringing in Georgia was rough. His family didn't have a lot of money and he was often a troublemaker in school. His high school guidance counselor told him he wasn't college bound.
With not a lot going well, Dupree persevered. His homeroom teacher was hopeful.
"She always encouraged me," Dupree said. "She said, 'You can go to college, you can do great things. You're intelligent.' She was really the only person to give me accolades."
Having a teacher on his side was helpful as well as having his grandfather and the memory of his mother. Dupree said his mom was big on getting school work done and before she died was going back to school to her high school equivalency degree.
"She was trying to set an example for us," Dupree said.
Dupree's grandfather always told him to go to school and not to play hooky.
"I finished school out of respect for my mom and grandparents," Dupree said.
Once he graduated high school he enlisted in the U.S. Army and met his wife, Michelle. He was stationed in Arizona. After a year in the Army, he moved to Connecticut, his wife's home state. For eight years, Dupree had a job in communications, a job he didn't enjoy. With much support from his wife, he enrolled in CCSU and graduated with his degree in 2010. He student taught in Waterbury and was a substitute teacher, tutored and held long-term first grade teaching positions at Israel Putnam and Casimir Pulaski School.
Teaching at the elementary school level was a no brainer for Dupree. He said CCSU almost groomed the males for the upper grades, but he didn't want to take that route.
"I like the younger grades. It does take patience," Dupree said. "But children act differently when they're not with their parents. They listen. You lay down the ground rules."
School Superintendent Mark D. Benigni said the number of males applying for elementary school positions is slowly increasing. Traditionally the positions were heavily dominated by females.
Southington School Superintendent Joseph V. Erardi Jr. said two years ago there was one male kindergarten teacher in the district. Rob Lalla taught at Thalberg School and also had served his country before taking on the kindergarten position. Lalla now teaches second grade in the district.
"It's very unique. We were thrilled to have him," Erardi said.
Benigni said he thinks Dupree is "super dedicated" and will set the bar high for all students.
"He's never going to give up on one of our kids," Benigni said. "He's a positive force. He believes in the potential of all children. The staff will enjoy working with him and he'll always give them his best effort."
Visitors entering Dupree's classroom notice his desk with "Mr. Dupree's Learning Platoon" scrolled across the front. Three ribbons rest on the chalkboard that will be given to students who earn them.
"I went with the military theme," Dupree said. "It works, they love it."
Dupree said his family never deemed education as important and wants to change that for his students who come from similar backgrounds. He wants to put his students on the right track and show them early on that just because they may come from a poor upbringing doesn't mean they can't be successful.
"You can still do something with your life," Dupree said. "My story sends a good message to kids, it gives them hope."
September 1, 2012