Not a job, A passion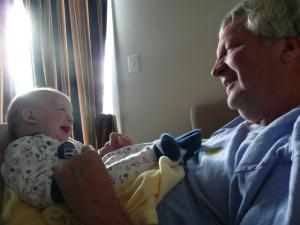 [MenTeach: Roger is co-publisher of the magazine Child Care Information Exchange and serves on the World Forum Foundation that is sponsoring the Men in Early Childhood Education Working Forum.]

How did you get started in this profession?
When I was little kid back in Fargo, North Dakota, my mother convinced me and my two younger brothers to put out a neighborhood newspaper, We called it the Belmont Bugle. I was the editor and sales person, my next youngest brother, Bob, was the reporter and little Brian was the delivery boy. I remember we mixed up some gelatinous gunk in a cookie pan and then wrote the text with some kind of purple pencil, then made an impression of the text on the gunk. Then we make copies from that somehow (amazingly we produced the first issue of Exchange the same way).
But I lost track of this heritage and got distracted into city planning and marriage — both of which eventually led me back to publishing. When Bonnie and I got married (in the midst of an NFL Championship game won by the Vikings) the marriage vows we created (it was the age of Aquarius after all) stated boldly that we intended to work together to make a difference. We had no idea what we were doing.
For my first job, I worked for the federal Model Cities program and Bonnie worked as a High School teacher. Working for Model Cities I got to experience a wide range of social programs from child care to job training to housing assistance to health care. It didn't take long to see that while most of these programs were putting band aids on problems, child care had the potential to start individuals on the path out of poverty.
Meanwhile, still retaining our hippy roots, we quit our jobs and went to Europe to live on "$5 a Day" for a year. While we were strolling around 25 countries running out of money and starting a family, we dusted off our marriage vows and tried to come up with a plan for how we could work together. It didn't take too many beers and brats before we settled in on opening a child care center.
However, when we returned home, penniless, homeless, pregnant and uninsured, we discovered that there were no blueprints for how to start a center. I went to Lesley College (one of only two male graduate students) where I came under the tutelage of Saint Gwen Morgan. Gwen and I struggled to put together an administrative curriculum for me based on the Harvard Business Review and books the likes of Warren Bennis and Peter Drucker (the only person I know who could write a 700 page book without a single reference or credit). Finding zero resources from our field, I started surveying two highly recommended directors from each state. I would send them a survey form on a topic (such as fund raising or motivating staff) and then turn around and share the results in a newsletter I called Child Care Information Exchange with all members of this Panel of 100.
Well one thing led to another and pretty soon we were starting a magazine (coincidentally, at the time we were living in Belmont, Massachusetts, and I was tempted to call it the Belmont Bugle) and saying goodbye to our plans to start a center. Of course, there was no competition and a huge demand for child care management ideas, so out of nearly blind luck we stumbled through those tricky start up years… and here were are 30 years later, still counting on blind luck to get by.
Why have you stuck with it?
I have stuck with this job because its not a job — its a passion, a great hobby, and a huge love-in. The people in this field are the fabulous people to work with — so committed, so creative, so supportive. And, by having hung around a bit we are now in a position to make some small contributions to the field such as our latest cause celebre, the Working Forum on Men in Early Care and Education.