One of only five male teachers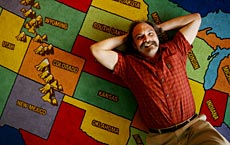 There's a second-grade teacher on Principal Cristina Flippen's staff who's especially nurturing and affectionate.
In this Oak Grove Elementary class, pupils watch chickens hatch each year, then the teacher takes the baby birds to the family farm to live.
Each November, the classroom filled with little chairs and little crayon- and glue-stick-stuffed desks becomes the site of a Pilgrimesque Thanksgiving. The class spends days churning butter, grinding wheat for bread and making soup before inviting parents to share in the feast.
Who is this Old MacDonald-style leader of two dozen 6- to 8-year-olds?
Tim Summers.
He's a 46-year-old with two teenage daughters, a former career in carpentry and a current gig playing with a Celtic band. With his bushy hair and handlebar mustache, he's more David Crosby than Mr. Rogers.
He's also one of five males teaching kindergarten, first or second graders for Roanoke County.
While low pay often deters men from entering teaching, Summers said the traditional role of men as breadwinners "is not really my bag."
Summers and his wife, a school instructional assistant, live in Botetourt County. When his daughters were young, their male Montessori school teacher became his role model, and he enjoyed volunteering at his children's campus. It prompted him to begin a second career 12 years ago in education, he said, because he wanted to make a difference.
"I don't know that I become a parental figure," he said. "You try to teach skills to be gentlemen and treat each other nicely."
For this reason, some parents in the county seek him out. "He's much requested by moms who want a positive male influence, or moms who feel they need someone good with boys," Flippen said.
Sometimes, Flippen said, parents meet Summers with surprise, telling her, "Oh, my child's never had a male teacher before."
But as far as being one of just two men teaching at his school, Summers has yet to see a downside. He just enjoys working with the kids, telling himself when they strain his patience that they are still learning to be people.
"It's the right job for me," he said.