Retired Piermont teacher believes a man's life work speaks more than his race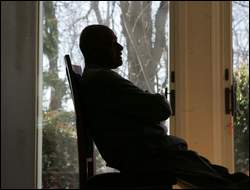 Clarence Branch Jr. has been fortunate in his life – enough so that the acts of racial prejudice he encounters still surprise him as much as anger him.
As one of the first black teachers in the South Orangetown schools in the early 1960s, he said he has been welcomed, respected and considered part of the community for as long as he could recall, despite coming to the nearly all-white school district when racial tensions made the news on a nearly daily basis.
"It was smooth sailing. I really had no experience of discrimination of that sort in my work in South Orangetown. That's not to say it didn't exist, but it didn't cross my path, and I think it was because of the nature of the community: small but very well-established," the 71-year-old retired high school science teacher said.
Branch, a Tennessee native, seldom criticized his situation or the people he encountered. But there was one thing particularly galling to a man who grew up in a segregated South and found a home in Rockland: being unable to find a place to live.
He was living in a rented room in the home of a local family but wanted a place of his own. His wife was expecting the first of their two daughters in the spring, but white landlords refused to rent to him. He almost left the area in his first year after encountering numerous brushoffs when he visited apartments looking for a place to live, he said.
"That happened so many times. I was never so – well, hurt or disappointed or disgusted. I grew up in the South but never felt the stigma of discrimination hurtful but when I moved to New York," he said. At one point, he and his school principal drove around to apartments, but the landlords still wouldn't rent a place to him. The principal was astounded, Branch recalled.
"He said: 'I apologize. I did not know this condition existed.'"
Shortly before the end of school, Branch found his home. With the help of a white Nyack merchant, Branch purchased an apartment building in Nyack on a land-lease option. Years later, when he went looking for another house, things had not changed: Real estate agents would only show him homes in black neighborhoods, where the housing wasn't what he wanted.
Branch ended up purchasing 2 acres on the highlands of Piermont and in 1968 built the home he still lives in. Although trees interfere with his view of the Hudson River, at night he can see the lights of the Empire State Building, he said.
A 'very lonely' time
Travis Jackson, 71, who grew up in Suffern and attended the segregated Hillburn school, was hired to teach at Suffern High School in 1959. The two didn't know each other until years later, Jackson said, although he was aware he was not the only black male teacher in Rockland. He described the political landscape as "very lonely" but not unwelcoming. Jackson, too, found it difficult to rent an apartment, even though he had grown up in town.
"It was troublesome," Jackson said. "After I had been refused house rental in Suffern, we had someone call back and it was still available. … That was an issue in all of Rockland County."
Arlene W. Clinkscale, who was the first black woman school superintendent in the state when she took over the reins of Nyack schools in the late 1960s, met Branch early on. She was hired in 1960 as a Pearl River elementary teacher and told at Teachers College that she would be a pioneer if she took a job in the district.
"We don't have any black teachers here," she said she was told. "Pearl River hired their first Jewish teacher that same year at the same school. We both were teaching first grade.
"I have a great deal of respect for Dr. Branch," she said. "He's a great role model. An excellent man. He carries himself well. If Clarence Branch tells you he is going to do something, he does it."
Clinkscale also had issues with housing, at one point helping with a civil rights lawsuit against Rockland landlords. Those days are long past, she said, but they still sting.
Inspired to teach
Branch was born in 1935, the fifth of seven children to Clarence and Odessa Branch in Huntingdon, Tenn., and attended all-black schools through high school. He said he was always aware of the segregation, but that his high school was acknowledged by the entire area as one of the best in the county with highly motivated and excellent teachers.
He and his siblings were expected to go to college, and all except one did. The brother who chose to go immediately to work became one of the first black supervisors for General Motors.
Branch, who is an adjunct science professor at Lehman College these days, said he was inspired to become a teacher by his high school principal. Branch described him as a canny politician and brilliant tactician who knew how to get what he wanted through the prevailing system, a man who was one of the most influential educators in his Tennessee community, color notwithstanding.
The lesson wasn't lost on the young Branch.
After receiving his bachelor of science degree in biochemistry from the all-black Tennessee State University, he attended Michigan State University as a graduate student to pick up his teaching courses. He student-taught at the all-white Birmingham, Mich., school district but didn't want to stay there when the year was over despite the welcome he received, he said. He didn't like Michigan.
At the end of his student-teaching stint, he received a telegram from South Orangetown schools asking him to come to interview for a position as a science teacher. He wondered, at first, if this small New York school district knew he was black when they extended the invitation. But he was welcomed heartily and offered a job on the spot for $4,300, some $1,300 more a year than any teacher earned in Michigan at the time, he said.
Only years later did he learn the district had decided it needed a black male teacher and specifically sought one out.
"The superintendent was from Michigan, and he was a liberal soul," Branch said. "Helping out was the fact that things were changing in New York. New York didn't have many black teachers. When I got here, there was one black elementary teacher who had been hired the previous year."
There still aren't enough black teachers, he said. In fact, he said, there are fewer black families in the Piermont area than when he first moved there; most people of color live in Spring Valley or Nyack, a self-segregation that worries him. Separating races just breeds suspicion and misunderstanding, he said, which encourages more separation.
"There are still folks of bad mind, so to speak. I like to think it's the exception," Branch said. "I believe the work I have done speaks for me. Oftentimes it does. Most of the time it does. But perhaps in certain quarters, there's something else that speaks, and it's this race thing. I would like to think it is not the case, but I know that it is.
"I don't accept that as any more than an excuse for anybody to not pursue whatever it is they want," he said. "As my daddy said, there's more than one way to skin a cat."