Teacher of the Year enjoys mentoring children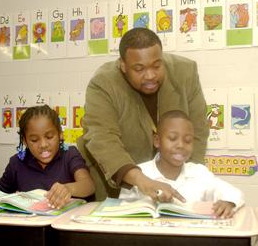 For this school year, Duane West has carried a lot of expectations. It's the price he pays for being the Riverview Gardens School District's 2006-2007 Teacher of the Year.
West hears comments and questions from parents, administrators and other teachers. Some ask about his teaching style, while others offer advice on his job.
"Once you're given the title, there's a sort of expectation," he said. "I'm asked a number of questions about my teaching style. I don't think it's pressure, exactly. It would be pressure if I didn't keep teaching the way I've always taught."West is the second-grade teacher at Lewis and Clark Elementary School. A 10-year veteran, he enjoys teaching at the elementary ranks, helping youngsters get a toehold on their education.
"I once thought about teaching at the high school, but I made a decision a long time ago to remain at the elementary level," he said. "I love teaching, especially reading and literacy."
West's work attracted the attention of his colleagues at Lewis and Clark. At the end of last year, they chose him to represent the school as the Teacher of the Year.
"His excitement and enthusiasm is apparent in his classroom," said Principal Jason Brown. "His classes are orderly and organized. He establishes a routine from the first day of the year. One of his best strengths is he doesn't hesitate to look for help when he needs it."
West was surprised when he was chosen for the honor. The process calls for candidates to write four to five essays discussing their beliefs in education. A panel of teachers and administrators makes the decision.
"I wrote about what made me get into education," he said. "It was the education I got from my teachers. I've stayed in touch with many of them for years now."
West is a proud product of the St. Louis Public Schools. He graduated from Beaumont High School and then went to what is now Harris-Stowe State University.
"My whole education was in the St. Louis schools," he said.
West also competed for the Missouri Teacher of the Year honor, but he was not chosen.
"It was disappointing that I did not win the state title, but you put on your hat and you soldier on," West said.
His second-grade students enjoy his classes.
"The best part is math," said Lastarza Shaw, 7. "I also like doing the work. He's a good teacher, but he gets mad if we talk too much."
Davian Swinney, 8, likes to read. West is his first male teacher.
It's important, especially to the boys, that a man teaches them, West said.
"So many of these kids have real issues," he said. "There are young men who need some kind of balance."
Brown agreed, adding that it was important for more men to become teachers.
"We need to find a way to attract more men into education," he said.
West keeps in touch with his former students, following their progress.
"Teaching is a moral activity," he said. "You just don't come to teach. You want to be a mentor to these kids."
February 18, 2008