Teacher Ross Anderson named We Deliver award winner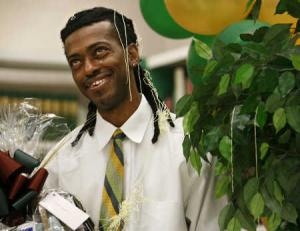 Hillsborough County resource teacher Ross Anderson knew something big was happening Friday at Van Buren Middle School.
But he had no idea the party — and a check for $10,000 — was for him.
Anderson, 40, was named this year's We Deliver award winner. The award, funded by an anonymous donor through the district's education foundation, recognizes an employee who "delivers miracles every day," said superintendent MaryEllen Elia.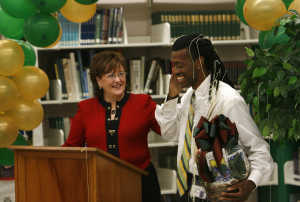 As sponsor of the school's Men of Vision program, which seeks to mentor boys and raise their academic performance, Anderson was asked to help set up the library for a press conference."I told the boys, 'I need you here first thing in the morning,' " he said, surrounded by television cameras and still clutching the check Elia gave him when he suddenly became the guest of honor. "I was shocked."
Anderson took a buyout from a corporate job in 2003, and in 2005 went to Sligh Middle School in search of a substitute teaching job. The school system, desperate for qualified male teachers willing to work in its low-income schools, hired him on the spot, and later nominated him as its teacher of the year.
At Van Buren since 2008, Anderson works as a resource teacher to improve students' reading skills and attendance. He said he immediately saw the power of encouraging young men to do their best and make a positive contribution.
"Because not all boys are bad," Anderson said. "They just need some channel to focus their energy."
For many of the tie-wearing boys who turned out Friday, that positive example has made all the difference.
"He helps a lot of people," said eighth-grader James Todd. "When I first got here, I was an F student. Now my grades are much better because of Men of Vision."
"He always has our back, keeps us out of trouble," agreed sixth-grader Wildens Cajuste. "I'm very grateful to have him. He's one of a kind."
May 16, 2009