Teaching children in a small school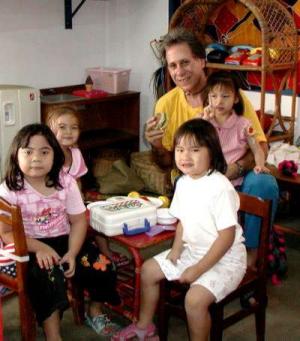 The program and school are fantastic. The school is small; about 160 kids on average, preschool through grade 9. We're like a family. I set up the current preschool program replacing a very traditional academic "teacher driven" program. The program now uses much of the criteria by NAEYC combined with my own knowledge of the brain development and learning. I also work to meet the needs of the very diverse population. I am able to put into practice 99% of what I believe should be in a program. I've reached a point where I can do this without any hassle. The school program is built from the bottom up with the program not being time-based but follows the flow of the kids.
I've given a lot of community presentations here in the Vientiane community and around Southeast Asia. One of my topics for other educators is "Breaking the Cycle" which compares what we now know about learning to the traditional scheduled teaching based approach. I give workshops here on the brain development and learning, emotional intelligence, multiple intelligence, guidance not discipline, guiding high-energy children, why teens act the way they do, guiding teens in learning, and memory. I have a class a week with grades 6,7,9 in a project that I designed called "Community." This grew out of a course that I had with five to six middle school students for two previous years called "Exploratory" in which we explored all kinds of things ranging from multiple intelligence, baking cookies, positive attitude projects for the school to working with various community groups. The overall goal has been to get involved with the middle school staff in order that the program might benefit from my knowledge in human development.
From Swaziland and around the world
I started in Early Childhood Education in 1971 after working in grade 1, grade 6 and two years in the Peace Corps in Swaziland teaching grade 9-10 Math-Science. After my experiences with 38 first graders in a rural Catholic school in Michigan and then 46 sixth graders in a Los Angeles suburb I decided that education wasn't what I wanted. I went into the Peace Corps, the first time in Somalia, to work in agriculture. I quit the program after almost a year because I saw that the way things were set up, I would do more damage than good to subsistence level agriculture by creating a dependency on outside aid.
I then switched to Swaziland where I saw that I could make a contribution in education and curriculum development. It was during this time that I realized that I was a good educator but that I didn't know what was going on in the kids' heads in learning.
I went back to school for a Master of Arts in Human Development and Learning. It was here that I discovered Piaget and others who gave credence to my belief that education could be fun, exciting and meaningful. I wound up working on Piaget grants, learning experience projects and setting up a day care program for the university, Western Michigan. The rest is history.
My life has never been the same. I've gone in and out of the field working at various administrative jobs in human services at the county and state level. I also set up a school in Iran 1974-78 but that's another story.
Our school currently has an excellent staff who is willing to explore higher levels of education. Our director, John Ritter is no exception. He and I had contact back in the 70s when I was an ISS school director in Iran and he had become a director in Nepal. Our relationship is more of an equal to equal rather than administrator to teacher. I left Iran in June of 78, returned to the US to get involved in my own community and put into practice a lot of what I had learned outside of the country. I worked as a volunteer in many organizations and was on the board of several including two national groups which took me to Washington DC six times a year. After three years I was lined up to replace John in Katmandu when I received an appointment from the governor's office because of my work in community issues. I decided to stay and work "at home" and declined the Nepal position.
Working for state government
The appointment was regional director of the Governor's Ombudsman Program for the Aging and Disabled. I was in charge of everything in Wisconsin outside of Milwaukee. I had just gotten the program re-established and moving when the Reagan chopper came along. I then decided to stay in Madison to go back to the university. I picked up graduate degrees in Sociology of Economic Change, and Latin American Studies and continued studies in Adult Education. I then went into the Peace Corps again for five years, this time in Belize and Guatemala. I've been a catalyst or developer most of my life. I reached a point where I wanted to develop something and stay with it, to see it maintain, grow and deepen. That led to me eventually coming to Laos and finding the right situation. I work with grades 6,7, and 9 in a one period a week class called Community that I designed. The grade seven class was very answer focused at the beginning of the year. They were resistant to my approach moving to a more reflective and conceptual level. One day some of the group asked me why a preschool teacher was working with a middle school class. I knew many of the kids from other activities and I also knew their parents quite well. I was taken back a bit by the challenge posed by their question but talked about my background a bit and related some of my experience in community service to the work that many of their parents were doing. Well, they still didn't seem to really believe that I had the professional qualifications to work with them in the area of community. The next week I gave each of them (there are eleven) a copy of my transcript for the last five years of my university work in Madison. It really opened up discussion. Many carried the discussion home and were impressed that someone of my background was working solely with them. They felt that I should be working at a much higher level than most of their parents. We talked a lot about choices in life and job satisfaction. Meeting their challenge at a level that was meaningful to them gave a solid base to work from. Now the kids are in the preschool after school and during lunchtime. They also come to me for assistance in things. One of the favorite activities in our class is to go into the preschool and PLAY. It is amazing to see some of these kids show how much they missed out on, many because they were pushed through the narrow confines of traditional academic schooling. One of the biggest developments to come out of the situation is for the group to begin to understand why I feel so strongly about Early Childhood Education and the foundation that can be built for life not just education.
David V. Zakem Vientiane International School PO Box 3180 Sapanthong Tai Road Vientiane LAOS