The best job anyone could have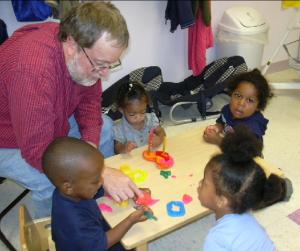 My name is Craig Simpson. I am an Infant/Toddler Team leader at the Yawkey Konbit Kreyole Center for Early Education and Care in Dorchester, MA, USA. I am 62 years old. I have been working as an Early Childhood Teacher for over 30 years. My mother had been a Preschool teacher for 30 years. I grew up in a racially integrated preschool at the end of the 1940s in New Jersey. I didn't think I would be a teacher, even a day care teacher. I thought I would be an archeologist.
My very first job was in a preschool in a Migrant Labor Camp in Hereford, Texas near Amarillo in the West panhandle of Texas. I was a VISTA (Volunteer in Service to America) volunteer–a domestic peace corps. We had a day care for the potato and cotton workers. We drove through the barracks and picked the children up and brought them back later in the day. We provided them meals and activities. But there was little or no regulation. It was very poor. A little girl drown in an outhouse just before I got there and the camp was outside a cow feeding lot which smelled of manure all the time.
This experience changed my life. My parents were upwardly mobile working class couple from New Jersey that voted Republican dutifully. I became an activist and a pacifist and a draft resister to the Vietnam War. I was arrested 10 times for civil disobedience against the war, nuclear weapons and power, and racism issues. I went to India for an international conference on Nonviolence and to learn about Gandhi. I went to Hiroshima and Nagasaki. I lived in Europe and worked in an International pacifist organization in the 1970s.
I also worked in all kinds of jobs before becoming an Early Childhood Teacher. I worked as a day laborer, taxi driver, dishwasher, adobe maker, fundraiser, apple picker, driveway paver. I was fired for trying to get a union in a garment factory I worked in New Mexico. I tried most any job to pay for rent.
One day a friend of mine offered me a job as an assistant teacher. In those days you could hire almost anyone. A bunch of my male friends were trouble makers like me and had trouble getting work we got jobs in day care. I am the only one who lasted over two years. The others went for the big bucks in jobs in middle school or social service jobs. It was sometimes difficult to keep my activism going while working full time. Once I took a two week vacation and was jailed at a nuclear waste disposal construction project in Southern New Mexico. I was the high profile organizer of the action and my photo appeared in the Albuquerque Journal. A parent put my photo of the police dragging me to jail. Some of the children had a discussion during lunch about me being in jail. My Director called me while I was incarcerated and asked me to come back to work because they couldn't find a substitute for my class. I agreed to cooperate to with the jail authorities and they released me and a local businessman paid my fine. The parents gave me an ovation when I returned to a parent meeting the next night. I felt strongly supported for my values and for my teaching. I found in my courses there was a connection between my Gandhian ideas of nonviolence and the work of Piaget and Erikson, developmentally appropriate practice.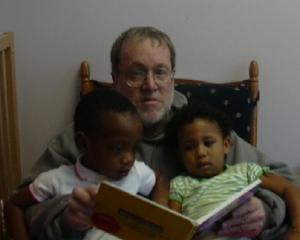 Lots have changed since I began teaching. There are many more rules and regulations. We wear gloves to change diapers. We can't use hotplates for art. We have much more paperwork. Curriculum is on the wall instead of the head. But we still have hunger, and homelessness, and single parent families and abuse. My infant room is still a macrocosm of society. Where I work in Boston, there is violence outside in the streets. A 20 year old was stabbed in front of a grocery store a block away, a teenager was shot on a bus close by, someone shot up an elementary playground just behind us. Our center remains a place of calm and safety and learning. We try to give the children the best of care–but 30 years later sometimes I doubt myself. I still am paranoid I will be accused of some sexually related thing-. This is a difficult job.
I still think I have the best job anyone could have. I will never know enough and am constantly learning. Each child seems to teach me something new every day. The pay has been horrible. I have slept on the same bed for 20 years because I can't afford a new one. I still have housemates.
I belong to a small group of Early Childhood activists known as Concerned Educators Allied for a Safe Environment (CEASE). Some are teachers, college professors, librarians, some are retired. We share some common values and want to end the oppression of children including war and violent conflict. We give one another lots of support. We are doing peacemaking things all in the profession. Most of the CEASE people are women and they have always given me support and encouragement in my work. Maybe that is why I have lasted so long. I have been the President of the Albuquerque and the Boston Association for the Education of Young Children. It is important for us to work on these boards and get ideas out there.
Finally, in early April, I was presented the Abigail Eliot Award for Early Childhood Education – this award is presented by the Boston AEYC for work in the field. Abigail Eliot was one of the pioneers of Early Childhood Education in the United States and started the first Preschools. The recipients of this award have been child care directors, authors, administrators, college professors. I was the first classroom teacher to receive this award. I haven't ever looked at myself as a pioneer but this award shows that men have a role to play in the lives of children and we can help to build caring environment in our classroom, our centers, our neighborhoods and our world.
Thanks for letting me give my story.