Virginia educator wins 2019 National Teacher of the Year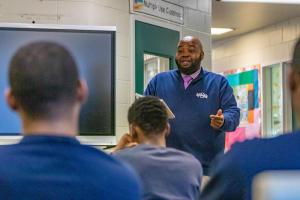 Robinson, who teaches at Virgie Binford Education Center, which is a school inside the Richmond Juvenile Justice Center, was commended by CCSSO for creating "a positive school culture by empowering his students – many of whom have experienced trauma – to become civically-minded social advocates who use their skills and voices to affect physical and policy changes at their school and in their communities."
Robinson told the National Education Association that he looks forward to helping lead a conversation about the students whom he calls "the most vulnerable in society" and how the nation can address the school-to-prison-pipeline that has pushed too many kids out of school.
"This year, I hope to be the voice for my students and all students who feel unseen, unheard, unappreciated and undervalued in America," Robinson said.
In 2015, Robinson started teaching at Virgie Binford Education Center in an effort to better understand the school-to-prison pipeline.  His classroom is a collaborative partnership between himself and his students and is anchored in him providing a civic centered education that promotes social-emotional growth, Robinson said. He uses the knowledge he has gained from his students to develop alternative programs to prevent students from entering the school-to-prison pipeline.
Published three times by Yale University, Robinson has received numerous awards for his accomplishments in and out of the classroom, most notably the R.E.B. Award for Teaching Excellence. He is a member of Richmond Mayor Levar Stoney's Education Compact Team, which includes politicians, educators, business leaders, and community leaders, and is working with city leaders and local colleges to recruit underrepresented male teachers into the field of education.
Robinson has also worked with Pulitzer Award winning author James Foreman on developing curriculum units on race, class, and punishment as a part of the Yale Teacher's Institute.
The 2019 Teacher of the Year, who earned a bachelor of arts in history from Virginia State University and a master's in educational administration and supervision from Virginia Commonwealth University, has focused a great deal of his efforts on the need for mental health services in schools and singles out the stigma surrounding treatment.
As Teacher of the Year, CCSO officials said Robinson will have a heightened platform to advocate for the students who are being left behind by budget cuts and a system that emphasizes punitive discipline over preventative and rehabilitative measures.
"I want school counselors, I want conflict mediators, I want restorative justice, I want people to come in and actually work with the kids and not just put a kid in handcuffs whenever there is a minor disagreement," Robinson said.
May 29, 2019