Men on a Mission: Valuing Youth Work in Our Communities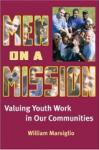 The first comprehensive study of men who work and volunteer with kids in a variety of public settings. This engaging book brings to life diverse histories and experiences of men who have worked as coaches, teachers, youth ministers, probation officers, Big Brothers, Boys & Girls Club staff, 4-H agents, and the like.
Situating men's youth work in historical perspective and discussing the status of youth today, this original and groundbreaking analysis offers a forward-looking vision for getting men more involved in helping kids thrive.
Price: $30