James Huntley and Gregg Shapiro are not traditional student teachers. Both are veterans of the U.S. Air Force, who were stationed at Shaw Air Force Base, and family men in their 30s and 40s.
When the two complete student teaching and finish their studies at University of South Carolina Sumter through the USC Upstate Teacher Education Program in December, they will join another category. They will be among about 17 percent of elementary and middle school teachers who are males across the country.
Huntley, 44, and Shapiro, 32, are two of four males on the faculty at Willow Drive Elementary School, where they're doing their student teaching.
"We understand there is a shortage of male teachers, especially on the elementary school level," Huntley said. "Children need strong male role models, especially those growing up without a father in their home."
Both said the rigors and structure of the military have shaped the two airmen, and they will take what they have learned in the military into their teaching careers.
"We hope to be able to help curb future behavior issues and prepare students for rigors of higher education and life in general," Shapiro said.
Shapiro said being in a school environment has some similarities to serving in the military.
"There are rules and procedures that have to be followed, and there is an understanding of the consequences if they're not," he said.
The two men are not all about being the strict and no-nonsense type. They are energetic, smiling and caring with the students, said Willow Drive Principal Liz Compton.
"They are very enthusiastic and excited about teaching," Compton said. "They bring in new ideas and new concepts, which are on the cutting edge."
Huntley decided to go into education while serving in the Air Force. He has a bachelor's degree in professional aeronautics and was an aircraft electrical environmental systems specialist in the military. The father of five boys, ranging in ages from 11 to 25, teaching was something Huntley said he's always thought about. He's been deployed multiple times during a 22-year career.
"During my deployment, I saw how much my children really needed me," Huntley said. "We really want to be role models for everyone in the classroom."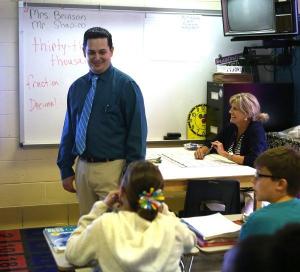 Shapiro was active duty for about nine years, serving as an aircraft weapons systems technician.
"There is an emotional turmoil that children go through from military deployments, most of them suffer from having their parents gone for months at a time," Shapiro said. "I hope to able to be there in a positive way for all children."
Shapiro said he discovered a passion for education after teaching algebra to airmen at the Community College of the Air Force.
"I discovered I enjoyed teaching mathematics and thought I could do that as a career," he said.
Shapiro and Huntley said through student teaching they get to experience teaching hands-on. The two will gradually transition from observing to teaching during the semester. Huntley is working with Willow Drive fifth-grade teachers Aimee Jackson and Stacy Shirah, and Shapiro is working with fifth-grade teachers Wendy Brinson and Elena Fishburne.