On March 4 at the MassAEYC conference- MenTeach-New England and  MassAEYC held our annual reception and award evening. Men Teach gave out two awards:
1) The Steve Shuman Award in Support of Men in Early Education and Care – this award was given to Stuart Cleinman now retired- longtime teacher, administrator, Director, Head Start evaluator, on the board of BAEYC Directors Conference and major advocate for men in early education. He has been a strong supporter of MenTeach – New England.

2) The Emerging Professional – male teacher early in the his early childhood career who shows leadership and advocates for men in early education. This year the award went to Pee Jay Clarke Kindergarten teacher at the Friends School in Cambridge, MA.. The award was presented by Jim St. Clair (former recipient of the the Steve Shuman Award) who had Pee Jay in his Kindergarten class years ago.
MassAEYC presented the Gwen Morgan Emerging Leader award to amy O'Leary former NAEYC Board member and President of Strategies for Children advocacy group in Boston and incredible activist for our field.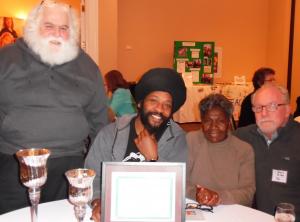 Jeff Robbins, Craig Simpson, Jim St. Clair, and Scot Tyner spoke and gave inspiration thoughts.
Photos: 1) Stuart Cleinman family – wife and daugther 2) Jim St.Clair and Pee Jay Clarke. 3) Stuart Cleiman, Pee Jay Clarke,his Mom and Jim St. Clair.