Student masterpieces hang on a string along the ceiling of a Camarillo classroom, colorful posters of block letters and numbers fill the walls, and a drove of stuffed sea creatures lie on top of a kid-sized bookcase. They're typical finds in a kindergarten classroom, but this room at University Preparation School also has something a little more rare: a male teacher. Juan Gaona originally thought he would end up in a high school, where male teachers are much more common. But in college, he decided he liked teaching basic skills, the building blocks to reading, math and everything else. "I love teaching," said Gaona, now in his 10th year and a kindergarten-first grade teacher in University Prep's dual language program.
In Ventura County and nationwide, Gaona is hardly typical. The number of male teachers in the county dropped below 25 percent in the last few years, the lowest in a decade, state records show. In many elementary schools, women outnumber men by an even greater margin.
A small Santa Paula district has no men on its teaching staff. In Camarillo's Pleasant Valley School District, men made up only 12 percent of teachers last year, and less than 5 percent in elementary schools.
Gender doesn't have anything to do with teaching quality, said Michael McCambridge, liberal studies director at California Lutheran University in Thousand Oaks, but "it's important to have role models who are both women and men."
"We would love to be able to show our students that teachers look like them," said Denise Danne, county schools human resources director.
McCambridge said that in his classes, however, he sees few men headed for careers in elementary education.
Teacher salaries, which typically don't measure up to those in the private sector, deter some from pursuing the job, officials said. Gaona didn't see teaching as a lifetime career in the beginning and thought he would find a higher-paying job elsewhere after a while.
"I saw myself teaching five years," he said. By then, he expected to have a master's degree in Spanish and get a job as a translator for a Fortune 500 company.
But after those five years, he had a master's degree in education instead, and now, "I'm still happy here."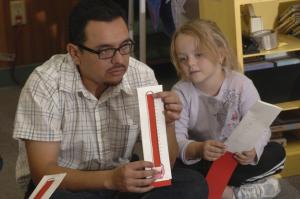 Many school districts will likely discuss layoffs more than teacher recruitment this year, because of looming state budget cuts. And that might continue the trend of fewer men entering elementary education.
Specifically recruiting men or women would violate employment laws, but school officials have gone to career days and recruited students of both sexes as early as high school. They also have offered incentives to both men and women, such as help with tuition and work/study programs, which tend to attract more men into the profession.
In California and nationwide, intern programs that place people in jobs while they finish their university coursework have pulled in more men than traditional teacher credential programs. Interns must have college degrees and meet requirements showing they are competent in the subject matter, but start teaching and earning a salary while taking advanced university teaching classes.
In the past few years, however, the number of available elementary teaching positions has dwindled, and fewer interns are being hired by schools.
The Mupu School District in Santa Paula had one male teacher for its 130 students last year. He left, however, and now the district has none.
Superintendent Jeanine Gore said she's focused on hiring the best qualified teachers, although she would like to have more of a balance.
"I really do think it's important," she said, both to have different role models on campus and to have a male perspective on how boys learn.
In elementary schools, more principals, teachers and other staff members are women, and that can give a one-sided view of life and reality, said Paula Lovo, executive director of the county's teacher support services.
When the kids go out in the real world and the work force, they will have to know how to work effectively with both men and women, she said.
Lovo said the number of new kindergarten students is expected to increase in the next few years, and hiring likely will increase at some point.
"Hopefully, we'll be able to attract strong male role models to elementary positions," Lovo said.