Administrators are increasingly finding that many servicemembers make good teachers
Stationed for 13 months along the Afghanistan/Pakistan border in 2007 and 2008, Brian Thompson had a lot of time to wonder what could come next for him.
In charge of a mortar squad with the U.S. Army's 82nd Airborne Division, Thompson often thought he'd go to law school once his three-and-a-half years were up.
Then one day he got a care package from his mother with a paperback copy of "Teacher Man," the third in a series of memoirs by Angela's Ashes author Frank McCourt. "You would make a terrific teacher, just like Mr. McCourt," she wrote inside the book, "especially making kids laugh with that sarcastic humor."
It took more than a year, but by 2009, Thompson was standing in front of a history class at Cardozo High School here in the nation's capital, one of thousands of newly minted teachers. On a blustery day last month, the 32-year-old was teaching his third-period history class about how rapid advances in weapons technology made World War I especially deadly.
As the U.S. military winds down two wars in Iraq and Afghanistan, scores of young men and women are coming home to an uncertain job market. Amid the uncertainty, some are becoming teachers.
Administrators are increasingly finding that many servicemembers make good teachers — and they're pushing to bring veterans into the mainstream of teacher recruitment, with hopes that their grit and perseverance can both improve student performance and lower teacher turnover rates. Nationally, about 30 percent of new teachers leave the profession within five years.
"We tap into this sector of folks who are used to working in high-stress environments," said Shaun Murphy, a former Army staff sergeant. "I think it's a great fit."
Murphy, a one-time trainee with Teach For America (TFA), now leads the group's first-ever military recruitment initiative.
Education organizations don't track the number of veterans going into teaching, but TFA, which began in 1990 as a way to lure Ivy League and other top-tier college graduates into needy urban and rural schools, has seen a fourfold increase in military candidates since 2009. Last fall, its cadre of servicemember-teachers grew to about 100.
The latest findings from the Bureau of Labor Statistics paint a sobering picture for Iraq and Afghanistan vets: As of November, they had a 10 percent unemployment rate, higher than the 6.6 percent overall rate for veterans. Among female veterans of the two wars, the unemployment rate is 12.9 percent, nearly double the 6.9 percent unemployment rate for women, both military and non-military.
Murphy, who grew up in the Brownsville section of Brooklyn, served in the military for eight years before landing at a Wilmington, Del., charter school with TFA, where he taught from 2009 to 2012. He said many troops join the military to get away from troubled neighborhoods, so educators should be tapping them to help turn these neighborhoods' schools around.
Rich Appel, principal of Chilton (Wis.) Middle School, said servicemembers "just learn to be able to adapt and overcome on so many different levels." They tend to have an innate sense of diplomacy, for one thing, and an ability to put small struggles and challenges into perspective.
During a 24-year military career, Appel saw several overseas deployments before retiring in 2011. He served for more than a year in Iraq, where he helped the Ministry of Education rebuild its school system. He also wrote Iraq's first teacher training manual. "I've come with a greater appreciation for the gifts that we do have in America and the students we have, the parents we have, the school system we have," he said.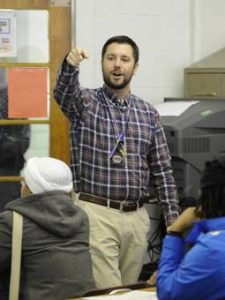 After reading McCourt's account of teaching English and creative writing at several New York City schools, Thompson looked into the federal Troops to Teachers program, but found that it required six years of active military service. Then, while waiting to jump out of a plane above Fort Bragg, N.C., during a nighttime exercise, he met a fellow soldier who asked if he'd heard of TFA.
Thompson jumped, landed safely, made his way home and, at 3 a.m., opened his laptop. By the fall of 2009, he was teaching at Cardozo, and he has never left. His calm demeanor was on display one recent morning as voices on the school PA system regularly interrupted his lesson . Then the entire school went on lockdown for an unspecified threat. Thompson kept talking as he walked to the classroom door and flicked the deadbolt into position. A few minutes later, the lockdown ended. The threat had passed.
"You just roll with the punches," he said afterward. "You're not stressing out when other people are stressing out."