A passion for teaching and learning is what drew Archie Moss to a career in education. But the Memphis principal recalls how he almost left the profession when he found himself increasingly tasked as a disciplinarian.
One of the few black male teachers in his former school in Charlotte, N.C., Moss had just been tapped as its new disciplinary dean when his students' math scores came back from the state — and were the highest in his school.
It was a revelation.
"We can be instructional leaders" and "not just pushed down to discipline," Moss said of being a black male educator.
In his new role of working with troubled students, Moss began to see his passion for education erode "because I couldn't affect change in academics," he remembers. "Everybody thinks that just because I'm black means I'm going to relate to my kids. You still have to work at it."
Moss's experience isn't unusual. Male teachers of color often feel consigned to become school disciplinarians instead of instructional leaders, especially in districts like in Memphis that are more likely to suspend black boys, while lagging at addressing what's behind those numbers.
The career track is based on the assumption that black male teachers can relate better to black male students than can other teachers. There's some merit to that theory, but it's not exclusive to discipline. A recent study showed that black boys in Tennessee and North Carolina were 39 percent less likely to drop out of high school if they had just one black teacher in the third, fourth or fifth grades. Other research shows that low-performing students especially benefit from having a teacher of their own race.
Even so, black teachers are often "limited to acting as disciplinarians instead of being respected for their ability to manage their classrooms," according to a 2014 report from Education Trust, an advocacy group led by former U.S. Secretary of Education John King.
Black teachers interviewed for the report also reported feeling that they were being confined to only teaching black students, weren't heard in staff meetings, and "had to 'tone down' their personalities to be seen as professionals," even if they related well to students.
The feedback points to just some of the reasons that teachers of color are exiting the profession at a higher rate than other teachers — and why effective male teachers of color are in demand across America. They make up only 2 percent of the teaching workforce nationally, even as U.S. public schools are comprised of mostly minority students. In Tennessee, more than 80 percent of school districts don't have a single Hispanic or black teacher — male or female.
Tennessee education officials have acknowledged the gap and this year announced new investments aimed at increasing diversity and improving the state's retention rate among effective minority teachers. Researchers say those teachers are also more likely to leave Tennessee schools than other teachers with high evaluation scores.
Charles Sturkey knows what it's like to be "the only one." For most of his 16-year career at Willow Oaks Elementary School in Memphis, he has been the only male teacher of color. And like Moss, he's often called on to step in when kids act up.
"I am sure there are more than a few male teachers that will tell you that they are the go-to teacher on their grade for handling students with discipline issues. I know I am that person, so I play my role on the team," said Sturkey, who teaches first grade.
Moss advises teachers like Sturkey to advocate for their own professional needs and desires.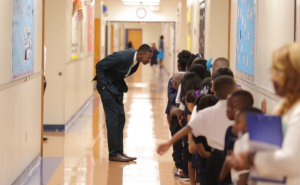 That's what Moss did when he left his job in North Carolina and came to Memphis. He told his new boss that he wanted to focus on instruction, not discipline. He's now principal at Bruce Elementary School.
"If (discipline) is what you want to do, that's fine," Moss said. "But don't let anyone tell you that's what you're going to do."
Seeking a way to support and energize male teachers of color in Memphis, Moss was instrumental in starting a local chapter of Profound Gentlemen, a Charlotte-based network now in seven cities. The organization is having results. Last year, 95 percent of its 160 teachers continued teaching, which is higher than the national rate for all black and Hispanic teachers.
The group also pairs teachers with boys of color in hopes of mentoring them to build a pipeline of future educators. "(They) can't be what they can't see," according to one of the group's mantras.
But the benefits of having diverse role models is important for more than just minority students, reminds King, who served as the nation's education chief under the Obama administration.
"Sometimes the issue of teacher diversity is framed as something that matters for students of color, but I actually think it matters immensely for all kids," he told Tennessee education leaders meeting this spring in Nashville. "White students need to see African-American teachers, Latino teachers, African-American principals, Latino principals."
From his instructional perch with first-graders in Memphis, Sturkey couldn't agree more.
"All professions need a diverse workforce," he said. "However, I believe this even more important in education than any other profession."