In his new office on the second floor of Zankel Hall, the people who have influenced Jon Drescher are present in talismanic form. The name plate from his father's office door.  A pair of tap dancing shoes that belonged to the entertainer Savion Glover, who was a student of Drescher's when he was principal of the Junior High School for the Performing Arts in Harlem. A review by New York Times critic John O'Connor of a radio show Drescher did for some years, called " A Trip through the 20th Century with Music."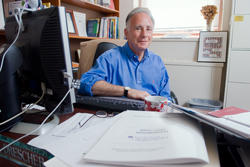 There's no object representing Bob Greenhill, Drescher's own fifth grade teacher at PS 139 in Rego Park, Queens, but perhaps that's because Greenhill is so present in Drescher's mind that object representation is unnecessary.
"Greenhill was the first male teacher I'd ever had," recalls Drescher, who in June was named the new Associate Director of the Teachers College Summer Principals Academy. "Most of the other teachers in the school were typical of the 1950s – rigid, not very creative. He was amazing. He loved sports, so he worked that into what we were doing in class. He loved storytelling, so he worked that in, too. He took us on cool field trips – I remember once on a Saturday, we went to Philadelphia for the day, and the bus broke down and we were stuck out on the road side for nearly five hours. And he kept us occupied just with who he was. When that year was over, we were heartbroken – but it stayed with us the rest of our lives."
Twenty-five years after he finished fifth grade, Drescher was working as the principal of Todd School in Briarcliff Manor, a public school in Westchester, when he discovered that one of his best friends from childhood was the school's special education coordinator. They got to talking and quickly discovered that they both had consciously modeled themselves as educators after Bob Greenhill.
"We decided we had to find Bob and tell him how much he'd meant to us," Drescher recalls. "This was pre-Google, so it took us a few years to do it, but we finally found him down in Florida. He was amazed – really moved. And it turned out he was coming up to New York the following we week, so the three of us agreed to meet for lunch. My friend and I got really worried – what if he wasn't as great as we remembered him to be? Well, it turned out he was even better. I ended up inviting him back to school where I was holding a staff meeting. And he got up and told my entire staff, all 110 of them, what an incorrigible kid I was. Which was true, I was always in trouble. I wrote an article about him afterwards for Education Leadership, and his wife told me that he keeps it on his door, and that no one gets into his house without reading it."
But Drescher's Bob Greenhill story doesn't end there. He's still channeling the man, only now with the broader aim of inspiring others to follow his example. Drescher previously worked at a Harvard non-degree program for current principals, and the feeling constantly voiced by the attendees, he says, was that they "felt like they were in a box, trying to break out or get support for what the research or their own gut was telling them."
He has signed on with SPA, he says, because, as a degree program, it offers a tremendous opportunity to shape the approach of younger professionals who are not yet principals.
"We don't want to throw the baby out with the bathwater, because there are good ideas and people at even the worst schools. But we do want to raise the bar, and most importantly, get beyond the idea of just running schools to achieve high test scores."
Certainly test scores are important, he says. At Prospect Hill Academy, a public, multi-campus K-12 charter in Cambridge and Somerville, Massachusetts, where Drescher was the  Head of School for several years, the school was one of only 10 statewide at which all tenth graders passed the MCAS (the state's standardized test) on the first try. The achievement was even more impressive given the school's multilingual student body (Portuguese, Spanish and Haitian Creole were among the main languages spoken), 60 percent of which were eligible for free and reduced lunch.
"That was great, and we certainly talked it up, but I was much prouder of the fact that these were nice kids who were really engaged in school, who did community service and who all went to college," Drescher says. "Above all, they had a very high level of social and cultural awareness. So while test scores are important, if we can create  educational leaders who also understand the human dynamic and who take the time to self-actualize, they can support other constituencies in their schools in doing the same thing."