Kenny Hall has been a teacher for 13 years, all of them at the elementary school level.
The Yucaipa instructor has taught first, second and third grades and currently, kindergarten.
"It's pretty rewarding to work with little kids, to see all the growth. They're so excited about all the learning they do," said Hall, 36. "And for me, education was always a big part of my growing up — education and sports."
For a man, Hall's chosen profession is rather unusual.
Of the 188 classroom teachers at the elementary level in the Yucaipa-Calimesa school district, Hall is one of 17 men.
His district isn't an anomaly. In both the San Bernardino City and Riverside school districts, just 10 percent of elementary school teachers are male.
Among elementary and middle school teachers nationwide, men constituted 18.8 percent in 2008, compared to 44 percent of high school teachers, according to the U.S. Bureau of Labor Statistics.
Men who teach elementary school commonly hear from students that they are their first male teacher — or "boy teacher," as some of them put it.
Greg Cinque, who teaches second grade in Yucaipa in San Bernardino County, said sometimes when girls enter his class for the first time and see their teacher is a man, "their eyes are as big as silver dollars."
He said he lets the children get to know him gradually. The first week of school, he doesn't joke around as much as he normally does.
Patrick Waters stands out at Three Rings Ranch Elementary School in Beaumont, and not just because he's one of only two male teachers. The fifth-grade instructor stands 6 feet, 7 inches tall and weighs 270 pounds.
"Sometimes it's like being a little celebrity," said Waters, 48.
Bryan G. Nelson is founder and director of Minneapolis-based MenTeach, which encourages men to go into teaching. Nelson, a teacher turned nurse turned college instructor, started the organization in 1979. He said children should be exposed to diversity and that they benefit from being around both men and women. He said a really good teacher brings his or her personal experiences into the classroom.
"If he likes sports, he'll talk sports. If he likes the arts, he'll bring the arts," Nelson said. "Men bring something different to it, to the field."
Some Inland men teachers noted that in some cases, they are the only stable male role model in the children's lives.
BUCKING THE TREND
Nelson said there are two factors at work that could prompt more men to enter primary education: the economy, which is causing many people to reconsider their career choices, and the Post- 9/11 GI bill, which went into effect in August. It provides education benefits to military personnel who have served on active duty for at least 90 days since Sept. 11, 2001.
Nelson is fielding quite a few calls from men in the military interested in teaching.
Kathleen Sanchez, assistant superintendent of human resources at Riverside Unified, said the school district does recruit and encourage young men to enter the teaching profession. She reports the district has seen an uptick in job applications from men in the past two years or so, particularly in the area of special education.
Judi Paredes, assistant superintendent of instructional services at Riverside Unified, said: "We are seeing more men going into the elementary level but probably, we're fighting some very, very old stereotypes, such as with nursing."
Along with stereotypes, fear of abuse accusations and the low status/low pay of teaching are the three leading reasons more men don't go into early through eighth-grade education, according to a nationwide study in 2002, Nelson said.
Men who teach elementary school say that sometimes people are surprised to find out what they do for a living. Many wonder, "what's his next career step?"
"A lot of people say, 'Are you going to move up to high school or administration?' " Cinque said.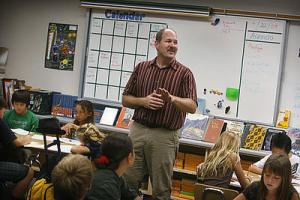 He's happy teaching second grade. "Everything is new to them, everything is fun," Cinque explained.
San Bernardino teacher Joe Beltran, 40, has taught kindergarten for about 11 years. He said that when he started teaching, he wasn't used to children hugging him. It felt "weird."
He said he doesn't want to do something that may look inappropriate, so when he hugs a student, he stands sideways — and when a student asks to sit on his lap, he shows the child how to stand by his desk chair instead.
"As a male, you have to think about it," he said.
FITTING IN FINE
Men who teach elementary school say there's a reason they do it: By and large, they like the age group because of the students' exuberance and disposition — just like the women who teach elementary school.
Stephen Young has been teaching for 26 years, all of them in the primary grades.
The 50-year-old is a fifth- and sixth-grade teacher in Riverside. He likes the content and the children's maturity level.
"Upper-elementary school, they're kind of independent but they don't have some of the hormonal rages and issues coming into play too much yet," he said.
Most men shrug off being in the minority at the school.
"You can't help but notice when there aren't a lot of men on campus. It's not like it's a big deal," Hall said.
It's common for teachers and staff at just about any elementary school to hold baby showers and wedding showers for colleagues. Hall said he attends the functions and it doesn't feel strange.
He added that when his twin sons were born, his colleagues threw him and his wife a shower.
Although Waters is one of only two male teachers at Three Rings Ranch, he said he doesn't feel like the odd man out.
"I've worked with a lot of women for many years. The discussions, they don't even phase me anymore," he said. From childbirth on, he's heard it all.
About two years ago, some of the women at the school launched a girls' night out. It was a chance for them to enjoy their hobbies.
Waters said he jokingly asked, "Can I come in and show you guys how to weld? That's one of my hobbies."
Reach Erin Waldner at 951-763-3473 or ewaldner@PE.com
San Bernardino City: Of the 1,181 elementary school teachers in kindergarten through sixth grade, 119 are men.
Riverside: Of the 1,102 teachers in kindergarten through sixth grade, 111 are men.
Temecula Valley: Of the 635 teachers in kindergarten through fifth grade, 68 are men.
Yucaipa-Calimesa: Of the 188 teachers in kindergarten through sixth grade, 17 are men.
Beaumont: Of the 146 teachers in kindergarten through fifth grade, 10 are men.
Source: School districts