My latest escapade with disaster relief was last week in Marietta, Georgia, in an American Red Cross shelter at the Cobb Civic Center. The Center, which normally is a basketball, etc., arena, had a capacity for about 400 cots. When we arrived there were about 250 people living there, and when we left the numbers were down, probably below 100. About 10 families had children between the ages of 2 and 11, whom we served, often repeatedly, with about 30-40 children served in total. We were a team of 3 volunteers from MD/WV, joined by one from Oklahoma on Tuesday and with help from some local ladies on Wednesday and Friday. We flew in and returned on successive Sundays.
We spent most of Monday "processing" with the Red Cross Disaster Center in Atlanta, complicated by the fact that our small operation, a "partner agency", isn't known to the bureaucrats who issue Red Cross debit cards, etc. When we got to the Cobb Center, after some GPS adventures and a tour of beautiful downtown Marietta, we found that Save the Children had already been there, to leave a large bin of toys for the children, most of which were strewn about or already incorporated into the children's possessions. The Shelter Manager first asked us to set up our child care center in an area where there was a television set, constantly in use. After one of the shelter residents complained about being displaced, we had to relocate the center to another part of the shelter, which served us well after we were able to expand a bit. We unloaded our "kit of comfort", a 60-pound suitcase full of hands-on, therapeutic toys and crafts for children recovering from disasters. The most important components were the play dough, the paints, and the cars and dolls and puppets and puzzles. Our space was delineated by some long tables, which we had to reinforce with cardboard after a 2 year old child repeatedly crawled under the tables to escape at great speed. Cardboard also served as a rug for our quiet area. After all this, we opened for business for an hour on Monday night.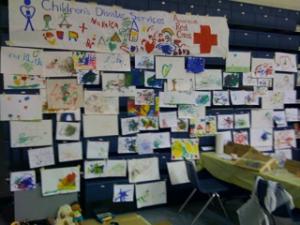 Because the older children were in school much of the day, we provided child care for about 90 minutes in the morning, 3 1/2 hours in the afternoon, and about an hour in the evening. Lights went out in the shelter at 9 p.m. Our days were full, leaving little time to explore the delights of Marietta and its environs. We stayed in motels, but because the Red Cross is suffering severe cutbacks in contributions we had to double up on room occupancy. Our motel was occupied almost entirely by Red Cross folks helping with disaster relief.
After our initial logistical difficulties we began to welcome and enjoy the children. There was an interesting array, all of whom had been evicted by the flooding, reportedly a flood of the magnitude experienced only once in 500 years. The children didn't seem to be much traumatized by the flood by the time we served them, and most of them really enjoyed the play opportunities we offered them. A few of the older children decided that this was not an experience they wanted to repeat, but one little boy in particular would come as often as he could. He would go from painting to puzzles to cars to dolls to being "Bob the Builder", hammering on the cinder brick wall to rebuild the house.We got to know many of them pretty well during the week. The artwork soon filled the wall behind us, and the shelter folks asked us to leave it all up, as a reminder. The children loved to play with the rice we provided, as well as the play dough we had. Some of them liked to listen to stories, but most of them needed more activity than that. Both children and adults often ended up with paint on unexpected places, and I came home with a few spots here and there to wash out.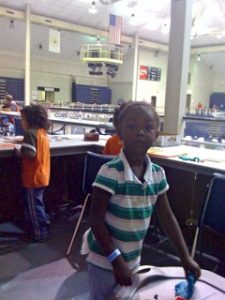 Every once in a while a celebrity would come through the shelter, accompanied by his or her press agents and Red Cross chaperones. Vice President Biden had visited the shelter before our arrival, and Jamal Anderson of the Atlanta Falcons spent an evening perched next to our child care center, signing autographs and giving out gift certificates to needy shelter residents. A country singer came by one day, and talked with me about his 2 year old and about the benefit concert he was giving this week for the Red Cross. Etc. A few times, our attendance went down while clowns, magicians, or local girl scouts entertained the children, or a picnic was provided outside the shelter. While we were there, Children's Disaster Services flew in a videographer for a day to interview all of us and take movies (with permission) of the children and the center, for a video to show the trainees for this service, as well as funders and the public, how we work.
Every day we would get compliments about our good work from various Red Cross and other adults walking by the shelter, and we think that we raised the morale a bit with the giggles and songs of the children wafting their way across the big arena.  After the closing of the shelter this week was announced, a Red Cross official took us aside and suggested that we should wind down our operation well before the shelter closed, as we were providing an incentive for the families with children to stay in the shelter. So our last day there was Saturday, and we flew home on Sunday.
If this looks interesting to you personally, and if you can take a week or two off occasionally to make a big difference in a child's life while he or she is recovering from a disaster, you can go to Children's Disaster Services to find out more, or you can ask me as well.