For 35 years, Len Saunders has been teaching physical education to elementary school children in Montville, N.J. Personally, he knows how important a strong male role model can be and hopes he is that for his students. His own father died just months before he was born, so he depended on uncles, coaches and other men to guide him in certain  areas of his physical and mental development. Without them, he thinks, his life would have taken a different path.
"Support from a male figure, it really contributes to their confidence level," Saunders says of his students.
At Valley View Elementary School where he teaches, Saunders, 56, is one of very few men — he estimates just 5 percent of the staff. It's a number he'd like to see change.
"A male role model figure is a key person in many of the boys' lives, especially if this person is someone who listens, who's a giving person and patient," he says. "And there may be boys who might be afraid to ask a question to a female figure or may be more comfortable with specific questions geared for men."
Why there's a shortage
According to the Consortium for Policy Research in Education, only about 24 percent of all teachers were male in 2012, with just one in 10 men teaching elementary school students.
Ethan Zagore, director of the University of Notre Dame's TRiO program, a federally funded initiative aimed at helping disadvantaged youngsters obtain an education, says a number of factors contribute to the shortage, but a big one is that many people just fundamentally — consciously or subconsciously — believe the role of an elementary teacher is better suited for women.
Jay Underwood, head of school for High Meadows School, a progressive, independent school for preschool through eighth grade in Roswell, Ga., agrees that teaching young children has long been considered a woman's job.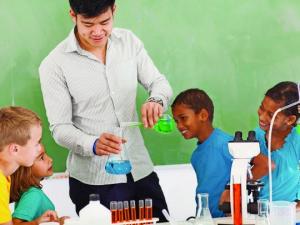 "Unfortunately, this misperception — and the stigma that comes with it — has led to a dearth of men in the teaching profession," Underwood says. "We see this in other professions as well — nursing is predominantly female, manufacturing and IT are predominantly male — so it isn't unique to teaching."
Another barrier is that while many colleges are focused on increasing the number of male teachers, there are not enough programs to meet the demand for their services or the increase in population, Zagore says.
And maybe most importantly, the money just isn't there.
"Nationally, the average salary for elementary teachers is embarrassingly low," Zagore says.
While pay can vary greatly by location, according to the most recent statistics from PayScale, a crowd-sourced database, the median salary for an elementary school teacher is $43,737.
Black male teachers in shorter supply
The absence of black male teachers is even more pronounced in U.S. schools, accounting for just 2 percent of the nation's educators, according to a report on racial diversity released last year from the Department of Education.
Alphonso Evans, CEO and principal of Southwest Leadership Academy Charter School in Philadelphia, says he can count just two black male teachers he had growing up, memorable mainly because they were like him.
He was on track to become an emergency physician when he went into a local YMCA to do required volunteer work in a Head Start classroom. He realized education was his true path after he connected with the students in ways their female teachers could not.
"I think, especially in African-American communities, so many children are yearning for that type of attention," Evans says.
"It's a heavy absence of male figures in the community and it gives them hope, it gives them guidance."
Evans just released a book on the importance of male mentorship, Tell Them They're Great … I Dare You, and says he is continuously on a mission to recruit male teachers for his own school.
"Last time I checked it was 78 percent Caucasian female, nationally, so you're constantly fighting that battle," he says. "Our area of education is losing so much influence that we could be giving to our young males because of the absence of male teachers at all."
According to the Department of Education's report, just 42 percent of black students complete a bachelor's degree in education, compared with 73 percent of whites.
Why boys need men
Underwood says it is important for boys to have strong male role models with open minds and challenge gender stereotypes.
"All students benefit from diverse teaching perspectives, and gender roles are a big part of that," Underwood says. "Boys learn differently than girls, so the daily interaction of an inspiring male teacher in their learning environment is highly productive."
David Hough, dean of the College of Education at Missouri State University, agrees that an adult male's influence can be positive when the role model exhibits positive character traits.
"Children tend to mimic or 'act out' the behaviors they see," Hough says. "In schools, male children may benefit from male teachers by observing appropriate behaviors, most notably associated with how to handle anger, respect for others and rule following."
Can it change?
Zagore says a combination of strategic actions and a change in perception are necessary to turn around this trend, including a gradual increase in elementary teacher salaries. Colleges and universities must also serve as liaisons between male high school upperclassmen with the passion and ability to teach, and the actual elementary classroom, where these same male students can change lives after they graduate from college.
"Elementary school teachers must be compensated to reflect their impact on a student's academic future, which is often related to their financial future," Zagore says. "For institutions of higher education, developing a series of programs which direct students from freshman year of college to elementary classrooms and offering excellent scholarship packages for those academically achieving in majors and paths towards the teaching profession, are both essential in getting more males in elementary classrooms."