Scott Schoenfeld is part of a dying breed. Mr. Schoenfeld, as his students call him, is one of few men who are teaching young children.
For some, low pay is reason enough to stay away from becoming a teacher, but men have another reason. Former and future elementary school teachers say there is a stigma over their profession, where men who want to work with children could be child predators.
Scott Waters, an elementary education professor at Emporia State University, said touch is a part of development, but teachers have to be careful.
"I think it's important for kids to have a hand on the shoulder or a pat on the back," he said, "but we live in a time where people are very sensitive to issues."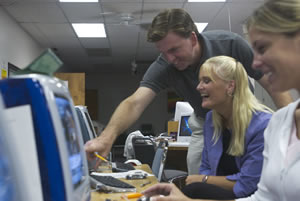 The examples are all around us. Monday, former Topeka daycare director Timothy McHenry was found not guilty of indecent liberties with a child. He says he'd like to work with kids again, but worries it won't happen.
"It's an inherent risk of the job," McHenry said on Monday. "You can have 27 years of working with children incident free and then something like this comes up and it can devastate your career."
At E.S.U., the number of male teacher candidates is holding steady. The school offers a scholarship specifically for males who are going into elementary education. It also doesn't hurt that they were in the top five for teacher programs in the nation, according to Tes Mehring, Dean of the Teachers' College.
Schoenfeld himself is still a student at Emporia State University. Despite the stigma, he's focused on his career and the positive impact he can have on kids. He remembers an elementary school teacher named Mr. Clark who had a profound impact on him.
"I never had him as a teacher, but just having him in the building," he said. "Seeing him, having him say hello to me, just another man, a father figure, kept many children in the right direction."