Towering above his students at Windsor's Northwood Elementary School, six-foot-11 Richard Shaw hardly looks like an endangered species.
Yet Shaw and his male peers are becoming increasingly rare in Ontario's classrooms, especially at the elementary school level.
Only 18.2 per cent of elementary school teachers employed by the Greater Essex County District School Board are male. That's slightly below the provincial average of 19 per cent.
"I dreamed of trying to play (basketball) professionally, but teaching was always my fallback plan," said Shaw, who attended Milwaukee's Marquette University on a basketball scholarship and was drafted by the Los Angeles Dodgers and later the California Angels as a pitcher.
"I loved working with the younger kids at basketball camps. Kids are like little sponges, that's where my interest in teaching at the elementary level started."
Shaw has been teaching for 12 years, the last 10 at Northwood, where he was a Grade 3 instructor and is now in physical education.
He's one of six or seven males on a staff of more than 60 teachers.
"We've talked at Northwood about needing a couple more men on staff, but if the best, qualified candidates aren't there…" Shaw said.
"I do think having more men in the classroom is important. It gives kids, especially boys, another successful male role model."
Shaw recognizes he gets some extra attention, but feels it's more for his size than his gender.
"At the beginning my size was a little intimidating, but I'm soft spoken and I smile a lot," Shaw said. "For many of my students, I'm the only one they've ever had. My own two kids haven't had a male teacher and they'd like to have one."
Like most, Shaw is at a loss to explain the steady decline in the number of men teaching.
Males represented 45 per cent of all teachers in Ontario in 1974. Now, 26 per cent of the total membership of the Ontario College of Teachers is male.
The GECDSB sits right at the provincial average due to better male representation at the secondary level (40.7 per cent).
The Windsor-Essex Catholic District School Board sees 25.6 per cent of its elementary staff made up of men while 42 per of high school teachers are male.
Overall, 33.8 per cent of WECDSB's teachers are male.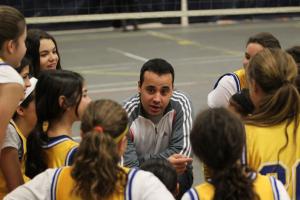 Jamie Bumbacco, WECDSB's executive superintendent of human resources, points out the numbers are even worse in the junior kindergarten to Grade 3 classrooms.
Only 15 of 195 teachers (eight per cent) in those grades at the WECDSB are men while 53 of 588 teachers (nine per cent) were male in the GECDSB.
"We would like more men to consider teaching because it would help break down stereotypes, showing men can be gentle and nurturing," Bumbacco said. "We want a variety of teaching styles, personalities and people in our classrooms.
"I'm dumbfounded why the number of men teaching is declining because it's certainly a good job to raise a family on."
Andrew Di Pietro, who is one of two male teachers assigned to the WECDSB's Queen of Peace in Leamington, believes the value of having more men in the classroom is in the intangibles of different life experiences and improved diversity.
"To have more male presence, especially at the younger age, I think is important," said Di Pietro, who teaches Grade 2/3 French immersion.
"I've heard that from several parents. They've told me it's been a positive for their children to have a new experience."
Though the numbers are intriguing, board officials said there are no plans to actively recruit more males.
"I wouldn't say it's a concern, but we'd like more men in the classroom," said Paul Antaya, GECDSB superintendent of human resources.
"But these numbers reflect what's going on in faculties of education and in the applications we receive. Our priority is hiring the best teachers regardless of gender."
Historically, lower wages and societal views that cast teaching as a female occupation have been the explanations for how the imbalance in numbers developed. In recent years, declining enrolment hasn't helped the job market either.
However, the 19 per cent decline in men teaching stretches over 40 years during a period when improving salary and benefits should've made teaching jobs more attractive.
"I wanted to teach after seeing the impact my father had in the community as a teacher," Di Pietro said. "With fewer men teaching, that means there are fewer boys having my experience. They see mostly female teachers at school and maybe that's why they don't see themselves as teachers."
That trend looks likely to continue for the foreseeable future.
Only 21 per cent of applications to faculties of education in 2013 were from males, according to Council of Ontario Universities statistics.
At the University of Windsor, the number of males enrolled in the faculty of education (129 in 2013) represents a 44.4 per cent drop since 2005.
However nursing, which society has also traditionally viewed as a female occupation, has seen a surge in male students. In the past 10 years, the number of men enrolled in Windsor's nursing program has more than tripled to 168 last year.
"The numbers certainly tell a story, we're just not sure what that story really is," Antaya said. "Until we find out why men aren't choosing the profession, we'd be guessing about how to attract more men to teaching."
Chris Greig, an associate professor in the faculty of education at Windsor, cautioned against overreaction.
"It's been a female-dominated profession for a 100 years and I don't really see it as a major issue," Greig said. "I think there are more pressing issues to diversifying than just bringing in more male teachers."
Greig said he hasn't seen any research that indicates having more male teachers improves academic performance.
He added the lack of male teachers is largely the result of men migrating to careers perceived to offer more potential for financial gain, power and prestige.
Those that do teach, tend to favour secondary schools.
"Some simply prefer to teach older students, but one of the biggest reasons why men don't choose early years education is there's a suspicion there's something not quite right with them," Greig said. "It's homophobia.
"Men are very careful about working with young children."
Shaw or Di Pietro both said such fears have never been a concern in their careers and both are against anything resembling quotas or affirmative action.
"You can't force men into the profession," Di Pietro said. "If you're not really interested, I don't want you teaching my children."