After years of decline, men are finally getting back into primary teaching — lured by family-friendly hours, good salaries and the satisfaction of making a difference.
Nowhere is their resurgence more apparent than at Melville Primary School in Perth's southern suburbs.
It has the highest ratio of male teachers to students of any public school in WA — with the teaching staff comprising 10 men and 22 women.
It is not uncommon for some children to go without ever having one male teacher throughout their primary schooling, but students at Melville can have several of them in succession.
A 'vibrant and energetic' dynamic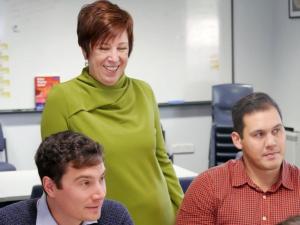 Principal Betty McNeil said while men were not any better than women at teaching, they brought a different energy and made the school a more welcoming place for fathers.
Some of the male teachers and fathers at the school had formed close friendships through a group known as MOMPS (Men of Melville Primary School).
"If you have schools … that are full of middle-aged women, the children are only interacting at one level.
"I think they [men] are quite pragmatic in their teaching.
"I couldn't do without them."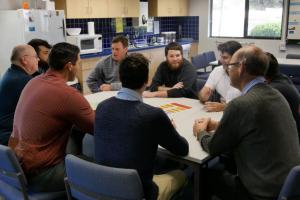 Substantial upswing in male enrollments
The staffing complement at Melville Primary aligns with the experiences of Edith Cowan University, one of the biggest suppliers of teachers in the country.
The university's School of Primary Education has had a 66 per cent increase in male enrolments for primary teaching since 2013.
In that year, they had 300 undergraduate and postgraduate male enrolments, compared to 510 in 2018.
Male students number one in three today, compared to one in four as little as five years ago.
Associate Dean Matt Byrne, from ECU's School of Education, said it was a substantial and exciting upswing.
He said nowadays men wanted careers that were not only rewarding, but allowed them to be the best possible fathers as well.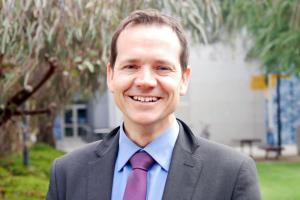 "It's stable, it's family friendly and I think that's something that's really starting to resonate," he said.
"Traditionally men worked really long hours, they came home, and I think it's quite different now — men want to be really involved in their kids."
Teachers reap financial rewards
Professor Byrne said after cumulative pay rises the money was also "pretty good" — something men were only starting to realise.
He said there was also the added attraction of 12 weeks annual leave, something that appealed to younger men who like to travel.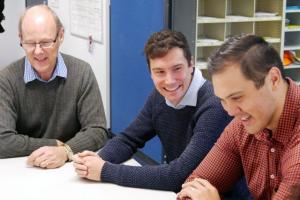 The downturn in WA's mining sector had also helped make teaching appear more attractive.
In Western Australia, entry level teachers earn $69,137 per annum with annual increments for eight years, until it caps out at $104,049.
Teachers promoted to "senior teacher" are on $108 089, while Level 3 classroom teachers, recognised for being "outstanding", earn between $112,287 and $115,626.
For deputies and principals, the salaries are higher still.
Professor Byrne said the university had worked hard to lift the profile of the profession among men and it was finally paying dividends.
"I think there was a perception in the community that teaching is something you get into if you can't really do anything else," he said.
"It's actually a really complex and a super professional skill set that you need and I think people are really understanding that.
"There's not many professions out there that have so much responsibility and so much influence, and you get to help shape the next generation."
Professor Byrne said in the past men shied away from teaching due to constant suspicions about why they wanted to work with children, but community perceptions had shifted and they no longer felt as judged.
Perfect job for a new father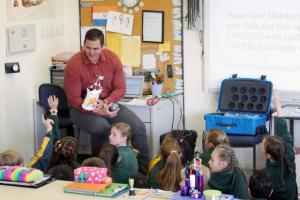 Karl Bodenstedt, who teaches Year 4 at Melville Primary, entered the profession after working as a labourer, a landscaper and in retail.
"Personally for me, those jobs were not what I was hoping for in life and teaching really was the way to go," he said.
"I'm the captain of the ship really, in my own little way.
"Whatever I like to do in the classroom, the kids can follow and it's quite rewarding to see them tackle a program and just be so enthusiastic about it."
He now acts as an ambassador for the WA Education Department, spruiking the benefits of primary teaching to men.
"Back in the day I think the pay scales weren't as great as other jobs … now the pay scales are quite good, and as a male you can actually support a family based on a teacher's pay."
He said teaching offered a degree of flexibility that meant he could pull equal weight at home and spend precious time with his newborn baby.
"For me, I think every day is just great," he said.
"You walk away from school, say 3:45pm or 4:00pm, after you do all your marking of course, and you sort of look back and you think, 'You know what? That was a great day'."
The importance of male role models
James Bland, a Year 2 teacher at Melville Primary, fell into teaching after studying film and doing a marketing degree, but could not be happier with his eventual choice.
"I'm loving it and the skills that I learnt in my other degrees have really helped me in here," he said.
"I just love seeing the kids grow.
"I think that's the most rewarding thing for me is seeing the kids progress through the year and seeing that you're actually making a difference in the community.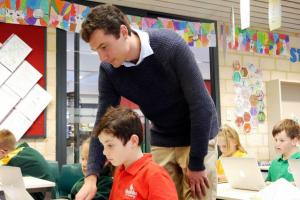 "I think for some of the kids it's nice for them to have a male role model in the classroom, sometimes that's lacking at home.
"[But] I don't think it particularly matters what gender you are, I think if you want to be a teacher, go for it. It's pretty rewarding."
The increase in male student enrollments may take a few years to filter through to classrooms.
According to the WA Education Department, males account for just under 11 per cent of the current primary teaching workforce.
It's a small improvement on 2016 figures, when just 10.17 per cent of all primary teachers were male.