Albeit whimsical, it would be accurate to say that a chance red light in Grand Junction, Colorado, 16 years ago lead to the creation of one of Illinois State's newest registered student organizations (RSO).
As the traffic stopped, a nearby building's sign advertising a pilot elementary certification program caught the eye of one of the drivers. The 25-old construction worker, who was on his way home after getting snowed out on a job site, seized the opportunity to turn into the parking lot and learn more about the program.
Today, Illinois State faculty, staff, and students know that man as Rolly Schendel, assistant professor of elementary education and reading in the College of Education. This happenstance brought him into a new career where he has become an elementary-level teacher and teacher educator.
Schendel helped to organize Male Educators (ME), a new RSO that will support current and future male teachers in a profession where these educators are often judged unfairly and are in the minority, particularly at the elementary level.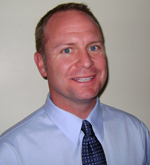 "Men can be different," Schendel said. "They don't have to be solid, stable, and always possessing of all the answers. I believe that inappropriate expectations give individuals a false sense of what it takes to be a happy, healthy man."
Through the RSO, Schendel hopes to provide students with experiences from the field that can help them understand how to be themselves in any classroom. This will include guest speakers who may provide insight into the challenges men face as educators. While Schendel expects many current members will return to share their experiences after graduation, he would like all Illinois State alumni to know that the group needs and wants their support and membership as well.
"In addition to sharing amongst the group, we will have males with teaching experience at multiple levels share their stories," he said. "The vicarious experience we can give to our members will help them to make sense of making appropriate choices when challenging situations arise."
ME became an official RSO February 11. However, Schendel identified its first student president—senior elementary education major Tom Hopper—several months earlier when the former child care manager first entered his classroom.
"When you see great leadership skills and someone who is confident, it needs to be shared," said Schendel.
Hopper, a father of three, dean's list student, and all-around busy guy, collaborated with Schendel to determine the scope of the RSO and bring in members.
"One of the main purposes for ME is for us to get together and negotiate what our roles are going to be in the classroom community and the wider community," Hopper said. "We are attempting to figure that out as a group.
"We talk about how to push through the negative aspects of being a male teacher and how to embrace the positive aspects of it so we can do what we are ultimately there to do, which is to serve the needs of our students."
The biggest misconception of ME might be that the RSO is only looking for male students to participate. According to Schendel and Hopper, this couldn't be further from the truth.
"A primary goal of ours is to bring in female members," Hopper said. "We are really trying to get the word out that we need their perspective and contributions."
It should also come as no surprise that the idea for ME originated from a female professor, Marilyn Moore.
"She told me we needed a support group for male educators," Schendel said.
What followed that proposition was digging, reading, and researching by Schendel. He uncovered a few similar groups across the country. However, none of them is accomplishing what ME is aiming to do.
Schendel envisions ME standing for a lot more than "male educators." He believes the organization will grow to represent different aspects of teaching and that it will become a resource for the community.
"My goal is that when people in the Illinois State and Bloomington-Normal communities need help, they can turn to this group." Schendel said. "When people hear, talk, and see ME out in the community, they will know what kind of people we are and what we represent: beautiful, caring individuals who are trying to make people's lives better."
For individuals interested in making a difference in the lives of educators and students, this may be your chance to contribute. Take Schendel's word for it—sometimes the greatest outcomes arise out of a simple first step.