A Charlottesville-based nonprofit is working to increase the diversity of teachers in Albemarle County and Charlottesville public schools.
According to the African American Teaching Fellows (AATF) there is only one minority teacher for every 122 students in both the city and county.
AATF has so far helped 32 people become teachers during their 10 years as a nonprofit.
Joseph Price attended Sutherland Middle School and graduated from Albemarle High School. He's one of the most recent fellows, and is now in his first year of teaching at Sutherland.
While in school, the fellows are each given $5,000 per year, in exchange they agree to teach for at least two years in the city or county.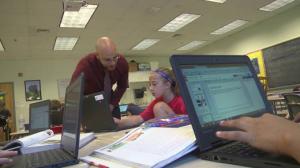 The organization also continues to support the fellows with leadership and professional development programs.
"I think that it's important for the classroom to represent our community. There is a need for male teachers, I believe, and African-American teachers in the field of education," Price said.
"Having diversity in front of our students will make them better, holistic individuals for understanding our global system," said AATF Co-chair Bernard Hairston.
Hairston says that he visited Price's classroom earlier on, and had asked the students if they ever had an African-American teacher before. He says not one student raised their hand, and that's why this fellows program is so important to him.
The nonprofit raises money for scholarships at its annual Baker Legacy Dinner, which is scheduled to be held at Farmington Country Club on October 23.