The only male teacher at a school in Felbridge has shared his views on why more men should work in primary education.
Eliot Law joined Felbridge Primary, in Crawley Down Road, in September and became the first male teacher at the school in more than five years. According to the 2014 School Workforce in England report from the Department for Education, of the 189,400 primary school teachers, 28,400 were male – just 15 per cent.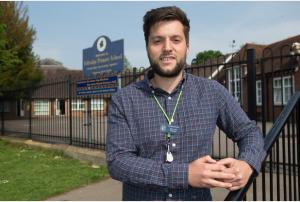 Mr Law explained how every school can play a big part in providing positive role models of both sexes for young people.
Mr Law, who teaches Year 4 pupils, said: "I think it's becoming increasingly important that children have positive role models, both male and female, when they are growing up so it would be good if there was more of an even balance.
"More positive press could raise the profile of male primary school teachers and encourage more males to pursue a career in teaching.
"I think schools can play a big part as well. Schemes such as the 'sports leaders' [a qualification for young people to teach children sports] can give great opportunities for working with children. These positive experiences could help more children consider a career in teaching."
Mr Law was originally a part-time coach at Brighton and Hove Albion football club, working in primary schools in the city and at the development centre.
He then got his teaching qualification at Plymouth University.
"I realised that I really enjoyed working with children and found it incredibly rewarding," he said.
"I chose primary because that was the age group I found most enjoyable working with and where I could make the biggest difference."
Although he is outnumbered by the school's nine female teachers, Mr Law doesn't think being the only man is a bad thing.
He said: "[Having a male or female teacher] is the same as it is for the children. Boys and girls aren't treated any differently and it's exactly the same with the staff."