A National Education Association (NEA) report indicates that there are 785,151 male teachers in public elementary and secondary schools across the nation compared to 2.4 million women.
While middle school and high school may have brought a few more male teachers into the mix, the truth is, the teaching profession was and really still is, dominated by women.
Most states report that less than 30 percent of all teachers are male, with the average coming in around 25 percent. The survey revealed that Arkansas had the least amount of male teachers at 17 percent while Kansas led the pack with more than 30 percent.
To go a step further, male educators make up 2.3 percent of the overall pre-K and kindergarten teachers, while male elementary and middle school teachers constitute 18.3 percent of the teaching population. It evens out a little more at the high school level with men representing about 42 percent of the teachers overall.
As other occupations began to open to educated women in the 1980s, women entered other professions, and teaching became slightly less-feminized.
But why are male teachers still few-and-far-between in the U.S.? Expert analysis insists that sexism and status play a big role in the issue.
An article published by mit.edu says that while girls have been encouraged to engage in typically male-dominated fields like math and science in recent years, boys have been given nearly no incentive to engage in female-dominated professions like teaching.
Author Bryan G. Nelson held many other jobs before becoming a teacher. In his book, "Why Schools Need More Male Teachers," Nelson blames a lack of male teachers on several factors including stereotypes, fear of accusation of abuse, and low status and low wages.
"Some people believe that working with young children is 'woman's work,' that men are not nurturing, and that there must be something wrong with any man who would want to teach," he wrote.
Nelson went on to say that some people fear men will harm children or be accused of abuse, and that for men, working with young children is perceived to come with low wages and low status.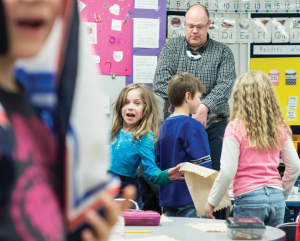 A 2006 study by Thomas Dee, now a professor at Stanford, suggests that boys do better in classes that are taught by men, while girls are more likely to thrive in classes taught by women. The study found that girls were more likely to report that they didn't think a class would be useful to their future if taught by a man, and boys were more likely to say they didn't look forward to a particular subject if it was taught by a woman.
Many scholars suggest that other variables like a teacher's experience and the number of students in his or her class are much more important to a student's success.
Patterson Elementary School teacher Jay Silvey has been teaching at the elementary school level for all of his 15 years in the Holly Area School district.
At 43, Silvey said he always wanted to teach at the elementary school level, having chosen to major in elementary education in college. "I love seeing the excitement on a child's face during the learning process — when they 'get it,'" he said. "It's awesome."
Contrary to Nelson's theory, Silvey said he has never felt "judged" by men in other professions for being a teacher.
"I believe that a teacher is one of the most important professional roles a person can hold," he said. "Because of this belief, I have never considered if other men in other professions look down on me," he added. "People are often surprised to hear that I teach first-grade, but I've never inquired into their reasoning."
As for school administrators, the genders are more equally weighted. In fact, a 2009 report released by the National Center for Education Statistics suggests when it comes to becoming a principal, women are right on par with men.
The report shows that 50 percent of public school principals and 53 percent of private school principals were female that year. That's quite a change from 20 years earlier when 75 percent of all principals, both in private and public schools, were male.
And while the gender gap appears to be narrowing in the principal profession, so too, does that appear to be happening among superintendents.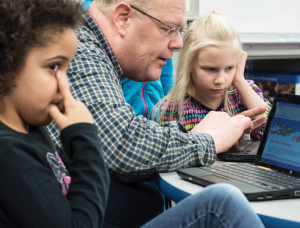 According to mit.edu, by the early 1970s, less than 1 percent of school superintendents were women. Over the years, the number has greatly increased, although the positions are still primarily occupied by men.
A national study conducted in 2011 says the percentage of female superintendents has increased nearly four times, from what it is in 1992. The study, released by the American Association of School Administrators, found that of approximately 2,000 surveyed superintendents nationwide, 24 percent were women – up 13 percent from the 1992 data.
Does gender matter when it comes to your child's teacher?
Female elementary school teachers' comfort with mathematics has an effect on the girls they teach, according to new research.
In a January 2013 article by Sarah D. Sparks in Education Week, Sparks said, girls taught by a female teacher got a learning boost if that teacher had a strong math background, but had consistently lower math performance by the end of the school year if she didn't, according to a study presented at the American Economic Association's annual conference.
By contrast, boys' math scores were not affected by having a female math teacher, regardless of the teacher's background in that subject, and there were no differences in math performance among male and female students of male teachers of different math backgrounds.
The study adds to growing evidence that children's gender biases can significantly affect their own ability.
"Children's perceptions of gender start emerging between the ages of 7 and 12," said the study co-author I. Serkan Ozbeklik, an assistant economics professor at Claremont McKenna College in Claremont, Calif. "Positive or negative, the primary school experiences may shape the academic course of students, leading to long-term consequences like choice of study, choice of major, and occupation."
Also worth noting, the researchers found no evidence of differences in teaching styles between the women and men teachers.