For Jayson Curtis, family is the reason to teach.
"I've had jobs in the past where I've worked 12-hour days," says the elementary education major at Utah State University. "I just missed so many birthday parties and things. … I wanted to watch my daughter grow up."
But family – combined with a handful of other factors – is one of the reasons for a national shortage of male elementary school teachers, and a subsequent shortage of male role models in the classroom, officials say.
Viewing teaching as an insufficient means of supporting a family, mixed with "dated notions that teaching is women's work," keeps men from pursuing careers in the field, according to a report from the National Education Association.
Less than a quarter of the nation's 3 million teachers are men, according to data from the NEA, and only 9 percent of elementary school teachers are male.
At the university level, where the NEA says the shortage starts, Curtis said he can count the number of men in his class on one hand.
"It's definitely dominated by women," he said.
Fewer than 7 percent of applications to the school's elementary education program are males, according to university numbers. In March 2006, six of the 60 students admitted to the program were men, the highest percentage in the last few years. Of the 60 accepted applicants in March 2005, only one was male.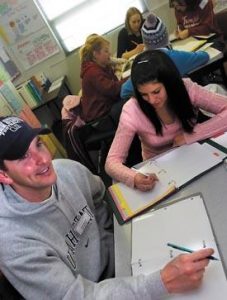 Dr. Jim Dorward, head of USU's elementary education department, said he would like to see more men in his classrooms, but said he can't force the issue.
"It's pretty much who shows up at the door," Dorward said, "and they're just not showing up."
Dorward calls the shortage "a national concern," and said a lack of male role models is detrimental for students.
"There are some differences in the way men and women solve problems," he said. "It contributes to a richer environment when you have more men and more minority teachers. We need a balance that's more reflective of society as a whole."
Without that balance, Dorward said the cycle repeats itself.
"Without these enthusiastic models saying it's OK to be a male teacher, or Hispanic teacher … students grow up with these preconceived notions."
Salary is part of the problem in recruiting male teachers, the NEA says. A teacher's income isn't enough to play the traditional role of breadwinner, according to the report.
When he was switching careers, Curtis toyed with the idea of going into medicine. Ultimately, the non-traditional student decided on teaching because "I would be close to 45 when I graduated" from medical school.
"To be a doctor and have this big house up on the hill doesn't really appeal to me," he said. "But I can see how it would appeal to someone younger, just getting out of high school."
But if salary is the problem, it is also the solution, officials said. State's with the highest pay, also have the highest percentage of male teachers, according to NEA data.
Michigan ranks in top five in pay, and first in the percentage of male teachers. Mississippi ranks 49th in pay and last in the number of men in the classroom.
"The salaries in education positions are less attractive," Dorward said. "We're competing against a lot of other occupations."
Utah ranks 24th nationally with men making up about a quarter of its teachers, according to the NEA. Curtis said money could lure him out of state once he graduates.
"It would be nice to stay in Utah," he said. "But it's hard when the pay is at the bottom of the barrel."
Men with interest in teaching might also gravitate toward secondary or post-secondary education, because of a notion that elementary education requires more nurturing, Dorward said.
"Perhaps there is a stigma there," he said.
If only in a small way, Curtis still feels that disconnect, and hopes to teach at the fourth- or fifth-grade level.
"With the younger grades, you get into roles where there's more cuddling and nurturing," he said. "It wouldn't be too far of a stretch for me, but I think I might relate more with older kids. They might get some of my jokes a little better."
Dorward said the department's application process takes gender into consideration.
"We try to do our part in increasing the representation for various groups of people," he said.
But admitting unqualified applicants is another thing, Dorward said.
"We're swamped by applications," he said. "We're turning away a lot of folks and we run into problems if we accept people who shouldn't be in the program."
Go to HJnews.com, Logan, UT, USA