The International Conference "Men in Early Childhood Education and Care" on the 27th and 28th of September 2012 in Berlin, Germany was quite an exciting event. There were people brought in from all over the world to talk about men teaching. I arrived early to the conference and was able to tour around Berlin. This is such a historic city and I was able to go on a walking tour.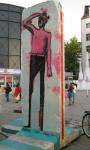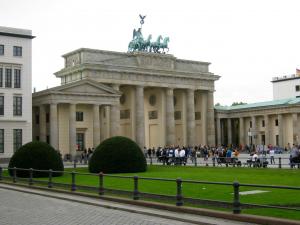 The walking tour gave me a great beginning in thinking about the conference and how it has come to pass that Germany has put over 15 million Euros to recruit more male teachers (more about that later). Some of the facinating history is the Berlin Wall between East and West Germany. If you have been to Berlin or know your history, it's more of a Berlin "fence" because it surrounded a section of the city.
The next day, I and several other world "experts" in this men in early education were invited to tour the early education programs or Kitas in Hamburg, Germany. I reported about that trip in another post.
The presentations were really interesting (you can watch them here – all will translated into English) – and the staff organizing the conference – the Koordinationasstelle – Manner in Kitas – worked hard to make the event unique, interesting and interactive as much as possible. Jens Krabel, Dana Unkart and other staff really made a difference setting up the event.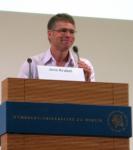 I had an opportunity to talk to the German staff and the story behind how it got started was fascinating. All the the staff have been doing gender work for years and the opportunity came up for Jens to meet with one of the government officials.She told him about what they were thinking of doing and he questioned whether the government's idea would be effective (Jens and others have done research about men in early education). So she said, "What do you think we should do?" So he told her. So often, things can happen in a moment and it pays to be prepared with your vision – and of course, the research and experience to back it up.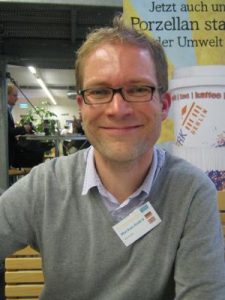 Markus Andra is one of the students doing research with Dr. Holger Brandes to evaluate the impact of male teachers. You can read about his initial findings that we heard at the conference: Does Gender Make a Difference? First results from the German 'tandem study' of female and male ECE workers. Markus was also a teacher so it was great to hear him discuss their research methodology and his perspective about the initial findings.
Dr. Jan Peeters is the director of the Research and Resource Centre for Early Childhood Education and Care of the Department of Social Welfare Studies at the Ghent University (Belgium). Jan has been active for many years writing and lecturing about gender work roles. It's been great to spend time with him at different world events. He has such an interesting background and doesn't come to his work in a traditional way.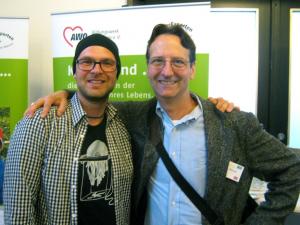 Besides reconnecting with previous friends, there is the opportunity to make new ones. One of the great things about the conference was that there were displays of all the different initiatives from all over Germany to recruit male teachers. Each region had their own approach to recruiting men. Tobias Niebergall is one of the project managers for the former East Germany. We had some great conversations about his team's approach to recruitment.
While sitting in the audience, I also had the opportunity to ask several men questions about their experiences. It seems that the work that all of us are doing is universal in challenging stereotypes and our passion for caring for young children.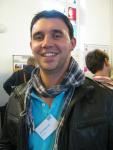 It was a large crowd and the conference was on a university campus. Walking through the displays I saw some great data and resources that, given the budget, could be replicated in every country.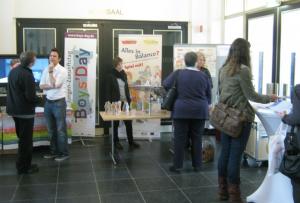 Another initiative was to have a Boys Day event to explore non-traditional careers. Markus Biank is the Project Coordinator and was very excited to be at the conference. He and one of his staff (I'm sorry I've didn't write down your name!) talked with me about the program. They also had materials in English. If you want more information about setting a Boys Day check out their website: www.kompetenzz.de. On the left side of the home page, you'll find an English link. I think the Germany approach, to challenge gender stereotypes makes a difference otherwise we can perpetuate beliefs that boys and girls need a particular type of male to be a teacher.
There was a panel discussion – very interesting to hear from other experts about their experiences. It was a great mix of researchers and practitioners.Dr. Tim Rohrmann, brought an outstanding panel of experts together. You can read their interviews here.
That evening a large group of us had dinner at a great restaurant. It was such fun to talk to so many interesting people. I sat with several people who have be doing this work for years. Ramazan Sak (a friend who was attending from Turkey) said it best: "I'm meeting so many people that I've cited in my papers and research!"
It was great to know that this work has matured over the years. And even more exciting to see how Germany has devoted such resources to make such a huge effect.
Part of the reason they are putting this much money into recruitment is that they are now having early education available for everyone. The government is concerned that they won't be able to find enough qualified teachers to meet the increased demand.
 I'm hopeful other countries will match or surpass what's happening in Germany.