During the past fall, I had the opportunity to attend and present at the NAEYC (National Association for Education of Young Children) annual conference in Washington D.C. Reflecting on this, I learned a lot about myself. I was reassured that my unique personality and view from a male perspective is welcomed in the field.
On the night of November 15th, I received the Leader of Men and Children Award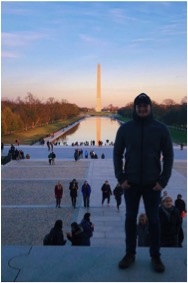 from the NAEYC Men in Education Network Interest Forum. I did not know I would be receiving the award until arriving at the ceremony. Although it came as an initial shock to me, I felt honored and now describe it as a humbling experience. Having been the president of the Men in Education organization at UW-Stout the past few years, I have taken part in coordinating and leading monthly meetings and actively advocating other men to consider early childhood opportunities. Ultimately, this award acknowledges my passion toward the field of education and specifically men in early childhood.
Two years ago, my professor and university advisor, Dr. Jill Klefstad invited me to take part in a research study that examined dispositions of male early childhood educators. Without hesitation, I accepted her offer and saw it as an incredible opportunity. As we visited and observed a number of classrooms, I was in charge of identifying strategies that the men use in their daily classroom and visual "eye-openers". This includes posters, activities and social interactions between student and teacher. As a pursuing male educator, I observed things that made me optimistic and honored to become a teacher.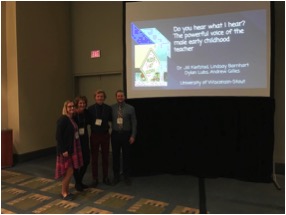 After working through this study, we were accepted to present at the NAEYC Conference, and I was beyond thrilled. Personally, it gave me the chance to speak about my own experiences and the importance of men in early childhood and how we shouldn't be marginalized by stereotypes. Aside from presenting, I was able to attend a number of other presentations that will benefit me as a future teacher. Topics included keeping play at the heart of early childhood, empowering emotions and relationship building, STEM and engaging men in early childhood.
Reflecting on this opportunity, the conference has given me confidence within myself to pursue education and work specifically with children, just as my dream and goals have intended. After presenting in front of a great audience, I had many individuals approach me and share their thoughts along with generous compliments. The opportunity to take part in and hear wisdom from experienced educators has enabled me to think of the unique impact I may have toward my peers. I am confident about my work ethic, passion and realize the importance of having young male educators in the profession.
Dylan Lubs, a senior at University of Wisconsin Stout will be graduating in Early Childhood education in May.