Last month I had the privilege of presenting at the NAEYC conference in Washington D. C. What was even more of an honor and thrill was that I took two of our male students, Dylan and Andrew, to the conference. Together we presented our research about the dispositions men use to engage children in learning.
This was Dylan and Andrew's first experience at a conference for early childhood educators. I had hoped that the magnitude of a national conference would provide them with information and knowledge to support their journey in becoming exceptional early childhood teachers. Perhaps I was more excited to view the conference through their eyes than they were prepared to experience this conference because I was anticipating the learning that would occur in their conversations with other male early childhood professionals.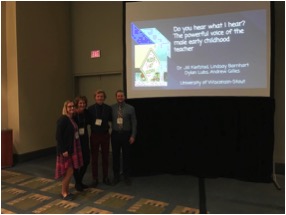 In years past, there have been numerous presentations to choose from that were given my male presenters. Much to my dismay, there were only two this year, one of which was ours. I left the conference feeling like I had somehow betrayed Dylan and Andrew but maybe it was just my own disappointment in not really learning something new about male educators. In the past, I shared what I had learned from the conference with the male students in the program and they were eager hear the perspectives learned especially from other male teachers. Furthermore, we often invited these teachers to share their knowledge with us during one of our meetings. This connection was missed this year.
However, for Dylan and Andrew, the conference resulted in some defining moments for them as future educators. These young men will soon graduate and search for jobs in early childhood education. The opportunity for them to present our research was compelling. They shared their experiences with passion and discussed what they were most looking forward to in becoming a teacher. The dispositions (humor, compassion, respect, and trust) men used to engage children in learning were supported with the examples Andrew and Dylan shared from their own experiences. These young men left the presentation seeing the value of connection with other male participants who teach young children. This outcome of the conference was valued by the young men.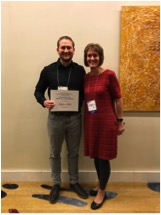 Another perk for Dylan came when he was given the  
Leader of Men and Children Award from the Men in Education Network Interest Forum.
 Dylan was humbled by the award which for him signified how hard work and dedication to the profession pays off. Even greater, this conference and recognition solidified Dylan's choice in becoming an early childhood teacher and ignited his determination to make the most of his upcoming student teaching experience.
Although I am a bit disheartened with the scarcity of presentations for men in early education, I believe the conference afforded Dylan and Andrew the need for connecting to a larger community of men in education. Hopefully, service to the profession will become a priority for them as they continue in the field. It seems that for these millennials, connection varies from the traditional ways we had connected. I am open and eager to see what lies ahead.
I strongly encourage each of you to send a presentation proposal for next years' conference which will be held in Nashville, Tennessee, November 20-23, 2019. Check out the link for further information. Let's be sure we continue to do our part in embarking on those opportunities that bring us together to obtain strategies on recruitment and retention of men in education as well as techniques and strategies that are unique and effective to men.