I just attended the U.S. Department of Education town hall meeting at Morehouse College featuring Education Secretary Arne Duncan, Congressman John Lewis, filmmaker and Morehouse graduate Spike Lee, Morehouse President Robert Michael Franklin, New Schools of Carver science teacher Christopher Watson, MSNBC contributor Jeff Johnson and Jonesboro's Mundy's Mill Middle School principal Derrick Dalton.
The point of the session –  which was loaded with inspirational moments, including Lee recognizing two Morehouse professors in the front row for their role in his success –  was to encourage black students to consider teaching.
The program opened with a personal, taped message to the Morehouse students from President Obama about the importance of increasing the pool of quality teachers. The stage backdrop was an Obama quote: "If you want to make a difference in the life of a child, become a teacher."
Despite all the firepower on the stage, the real voltage came from the young men in the audience, including high school students from Clayton County and APS schools. Their questions were thoughtful and reflected a real interest in education and an awareness of the many problems besetting public education and, in particular, black males.
But if any institution has cracked the code of black male achievement, as one speaker noted, it has been Morehouse, which has been encouraging its elite students to consider teaching instead of law or finance.
The panelists laid the groundwork that we already discussed here in the earlier blog based on my telephone interview with Secretary Duncan: Only one in 50 teachers is a black male.
A common theme in the comments that posters made in response to that blog was "Why is it important to have good black male teachers? Isn't the real goal good teachers?" Neither Duncan nor anyone else on that stage today would dispute the urgency of getting more strong college students to enter teaching, but there is a real dearth of black men. And diverse role models are important.
President Franklin opened the program with a wonderful quote from theologian, educator and civil rights leader Howard Thurman: "Don't ask what the world needs. Ask what makes you come alive, and go do it. Because what the world needs is people who have come alive."
Franklin won applause when he shared a Morehouse saying: "When a teacher opens the door of a classroom, he slams the door of a prison cell."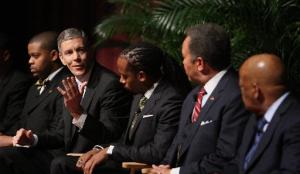 Duncan earned applause with his statement, "I think teachers are underpaid and undervalued in our country today." But he told the 500 people in the audience that teacher pay systems must change to highlight and reward excellence and that high-achieving young teachers in some places experimenting with performance pay are earning $100,000.
While teaching jobs may be scarce now, Duncan assured students that positions will open up. A million of the nation's 3.2 million teachers are at or near retirement, he said, and the time will come soon when schools will be hiring 100,000 to 200,000 new teachers a year. He also talked up the Income-Based Repayment, which forgives eligible federal student loans for teachers after 10 years of payments and employment.
MSNBC contributor Jeff Johnson announced his five-year national initiative to recruit, train, place and develop 80,000 African American male teachers by 2015.
Spike Lee is part of a Morehouse legacy as his grandfather graduated the college in 1927 and his father in 1951. (His grandmother graduated Spelman in 1929 and his mother in 1954.) His grandmother taught art in Georgia for 50 years and never had a white student because of Jim Crow, he told the audience.  Lee considers himself a teacher as he teaches at his graduate school, NYU.
He reminded audience that at one time in American history it was a crime to teach black slaves to read and write. "If you were caught, you could be whipped, castrated or hung. And if the massa was having a bad day, it could be all three," he said.
Too many black teens see only three career options, said Lee, sports, rap music or the corner. "Our vision is so narrow," he said. "Black children have to see more options."
Which brings us full circle: Seeing black men in front of the classroom would reveal another option to children.