Pupils try harder for male teachers, according to an official study.
They make more effort to please them, display greater self-esteem and are more likely to believe they are being treated fairly.
The findings are particularly significant as more than a quarter of primary schools do not have a single male teacher.
With the number of male secondary school teachers also dwindling, it is feared that some youngsters could go throughout their entire education without experiencing the benefits of being taught by a man.
Researchers from Westminster University, the London School of Economics and the graduate business school INSEAD carried out an experiment involving 1,200 pupils aged 12-13 in 29 schools.
The study, commissioned by the Department for Education under Labour, was aimed at discovering what shaped youngsters' effort, motivation and educational achievement.
Each pupil received #2 and was asked to buy up to ten questions, priced 20p each. The questions involved having to define the meaning of words.
A correct answer doubled their money each time while an incorrect one forfeited 20p. Therefore, pupils who tried ten questions and got them all correct could earn #4.
In one group, marking was done anonymously by an external examiner. In the other, marking was done by the teacher in the classroom.
There were nine male teachers and 18 female teachers in the study, which compared the number of questions bought across both groups and measured pupils' perceptions of the grading and their willingness to make effort using questionnaires.
They found little overall difference in the number of questions purchased between both groups.
But in the group where marking was done by the teacher, pupils bought significantly more questions when assessed by men.
Children had a more 'positive perception of the rewards' of their effort despite the fact the males were not any more lenient.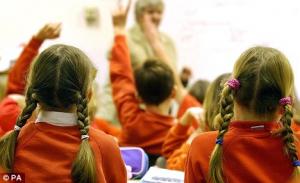 Both boys and girls also showed greater confidence in their ability. Researchers said the findings were 'new and significant' as the effects were evident for every male teacher in the experiment.
They said the study 'reveals that pupils taught by male teachers tend to have better perceptions of the importance of hard work, better perceptions of equalities of opportunities and higher self-esteem.
'This experiment shows that male teachers may be beneficial for both male and female pupils, increasing motivation and effort.'
But the latest figures from the General Teaching Council show that only 123,361 of 502,562 registered teachers are men – just 25 per cent – with the vast majority working in secondary schools and further education. Two decades ago, men made up four in ten teachers.
Staffrooms at 4,700 primaries – 28 per cent – are solely populated by women, 150 more than last year.
A recent study by Kent University found that women teachers are holding back boys by reprimanding them for typically male behaviour.
They are reinforcing stereotypes that boys are 'silly' in class and refuse to 'sit nicely like the girls' and are more likely to indulge in pranks.
Researchers found that women teachers may also unwittingly perpetuate low expectations of boys and encourage girls to work harder by telling them they are clever.