[MenTeach: Please note that this is an article from 2012 but still holds relevant research]
Schools need more male teachers because boys make less effort in women's classes, a new study claimed today.
The shortage of men in school staffrooms could be one reason for the under-achievement of boys, researchers found.
Female teachers tend to give boys lower marks than they deserve – and boys are less likely to work hard in their classes.
Men appear to be better at motivating boys but are vastly outnumbered in the nation's schools, taking just a quarter of teaching jobs, and 15 per cent in primaries.
'Boys often disengage in the educational process, and this is likely to be due in part to their perceptions of their teachers,' said the study's authors.
'There is an under-representation of male teachers in both primary and secondary education in England.'
Girls also made more effort when they were graded by male teachers, according to research by the Centre for Economic Performance at the London School of Economics.
But teachers were found to be more lenient with students of their own sex.
Girls actually received higher grades from female teachers than male.
Male teachers, in turn, gave boys higher marks.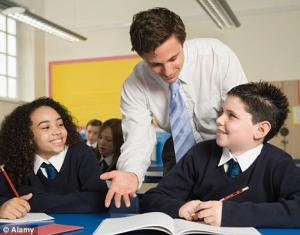 For the study, 1,200 pupils aged 12 and 13 in 29 schools across England were given £4 and asked to place bets on their performance in an exam.
One group of pupils was marked by their class teacher – some male and some female – and another by an anonymous external examiner.
'The results of the experiment show that male pupils tended to lower their investment when a female teacher marked their exams,' said the study.
'Further analysis confirmed that female teachers in the experiment did tend to award lower marks to male pupils than external examiners.
'So male pupils' perceptions seem to be roughly in line with female teachers' marking practices.'
Girls placed substantially bigger bets when they knew they were being marked by a male teacher instead of an anonymous examiner.
But male teachers did not mark them more leniently, and in fact tended to discriminate in favour of boys.
Campaigns staged over recent years to increase recruitment of male teachers have failed to change significantly the make-up of staffrooms.
A quarter of primary schools do not have a single male teacher, according to figures released last year. Staffrooms in 4,278 of the 16,971 primaries in England are solely populated by women.
And there are just 25,500 men teaching young children, compared with 139,500 women.
Conservative MP Philip Hollobone has raised the issue in the House of Commons.
'This is especially a problem because there are more and more families where children are growing up without a father,' he said.
'The teachers in primary school are overwhelmingly women, and they do a great job.
'But it would be even better if there were more male teachers to act as role models, particularly to young boys.'