The National Association for the Education of Young Children (NAEYC) Men in Education Network (M.E.N.) Interest Forum gives out two awards each year at the national conference. The first is the Champion for Men and Children Award which goes to a man, woman or organization that has made significant contribution to furthering our efforts to increase the number of men working with children. The recipient does not work directly with children.
This year's winner is Rodney West.
Rodney West has been an advocate for young children for almost 40 years. He worked in the Early Childhood field as an Assistant, Teacher Resource Teacher, and Administrator. Rodney currently works as an administrator with San Diego Unified School District. He holds degrees in Child Development, Criminal Justice, and Business. His favorite pastime is coaching various youth sports, gardening, genealogy, drumming, and singing in choir.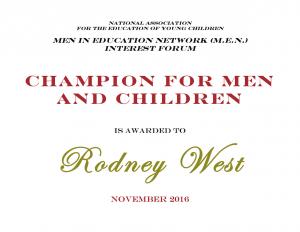 Rodney is a co-facilitator for Men in Childcare of National Association for the Education of Young Children (NAEYC), and a board member for California Association for the Education of Young Children (CAEYC) and San Diego Association for the Education of Young Children (SDAEYC). He currently is chairperson for the Diversity-in-Action committee of CAEYC. Rodney West has presented workshops at local, state, and national AEYC conferences in reference to Men in Child Care and Diversity. He has previously been a mentor of a Rites of Passage program for young males. Rodney is currently an ordained Elder with his Presbyterian congregation where he spearheads community outreach.
Rodney is an individual who continues to fight and advocate for justice on behalf of all young children and families. Making the world a better place than inherited is always the vision for Rodney. It is important that his daily walk aligns with is articulated vision. He was given the name of Solwazi Anumattu by the Elders in his community a few years ago. His name means "He is Knowledge" and "He who walks in the way he talks." His favorite symbol is the ancient Sankofa bird that hovers over the universe. Sankofa is destined to "Correct which has not been done." Rodney also concedes to the words of Marian Wright Edelman; "Education is for improving the lives of others and for leaving your community and world better than you found it."
The second award is the Leader of Men and Children Award and goes to a man that works directly with children and has made significant contribution to furthering the efforts to increase the number of men working with children. The man must currently be working directly with children.
Dedrick Davis is the 2016 winner.
Mr. Davis has a BS degree in Criminal Justice, along with a minor in General Business.  Mr. Davis is also a Master Gardener.  He has been teaching for the Mississippi County Economic Opportunity Commision (MCAEOC) for the past 10 years.  Dedric also is involved with assisting individuals with expungement; sealing criminal records. He also has been a football and basketball referee for 5 years.
Mr. Davis was the past Fatherhood inititiative President for the state of Arkansas.  He won the Master Gardener Rjokie of the year for the State of Arkansas.  Dedrick has volunteered over 700 hours in the community garden and other projects.  He has given fresh vegetables and fruits to those in need, and given lectures to various community agencies.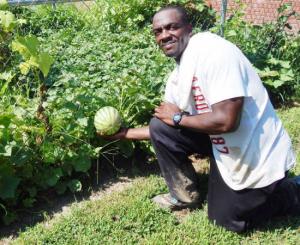 Dedrick currently sits on the board for Youth Move. He has been the excercise coordinator for the Mississippi County Library systems for the past 5 years.  Numerous articles have been published in the Blytheville Courier Newspaper depicting his passion for gardenting.  Mr. Davis was recently featured in the Little Rock Family Magazine in an article entitled, "Strong Support."  Dedric continues to collaborate with organizations such as Project Launch, Blytheville Leadership Institute, Daddy's Diamonds, Healing in the Hood, Extension Office, Butterfly Garden, Osceola STEM Academy, and We Care Daycare Center, among other civic groups. Lastly, Dedric does motivational talks with Mississippi County Prison System.
Men In Education Network (M.E.N.) Interest Forum
Past Champion for Men and Children Award

2001 – Bruce Cunningham – Washington (Anaheim, CA)
2002 – Coleman Baker – Vermont (New York City, NY)
2003 – Bryan G. Nelson – Minnesota (Chicago, IL)
2004 – Michelle Soltero – California (Anaheim, CA)
2005 – Donald E. Piburn – Hawaii (Washington, DC)
2006 – Maurice Sykes – Washington, DC (Atlanta, GA)
2007 – Dorothy Hewes – California (Chicago, IL)
2008 – Bonnie & Roger Neugenbauer – Washington (Dallas, TX)
2009 – Frances M. Carlson – Georgia (Washington, DC)
2010 – Kenny Spence – Scotland (Anaheim, CA)
2011 – Eileen Smith, Bright Horizons – Massachusetts (Orlando, FL)
2012 – Jeffrey Robbins – New Hampshire (Atlanta, GA)
2013 – Peter Pizzolongo – Washington DC (Washington, DC)
2014 – Jerry Parr – New Hampshire (Dallas, TX)
2015 – Dr. Jill Klefstad – Wisconsin (Orlando, FL)
2016 – Rodney West – California (Los Angeles, CA)
Men In Education Network (M.E.N.) Interest Forum
Past Leader of Men and Children Award
2001 – Bruce Sheppard – Minnesota (Anaheim, CA)
2002 – Moises Roman – California (New York City, NY)
2003 – Bob Capuozzo – Indiana (Chicago, IL)
2004 – Greg Uba – California (Anaheim, CA)
2005 – John Suur    – Washington, DC (Washington, DC)
2006 – Doug Moeller – Georgia (Atlanta, GA)
2007 – Thomas B. Solomon – Illinois (Chicago, IL)
2008 – Darío de León – Texas (Dallas, TX)
2009 – Craig Simpson – Massachusetts (Washington, DC)
2010 – Jim Clay – Washington DC (Anaheim, CA)
2011 – Todd Seabury-Kolod – Minnesota (Orlando, FL)
2012 – James Peas – Georgia (Atlanta, GA)
2013 – Brian Silveira – California (Washington, DC)
2014 – Jason Williams – Texas (Dallas, TX)
2015 – Mike Huber – Minnesota (Orlando, FL)
2016 – Dedrick Davis – Arkansas (Los Angeles, CA)