2018 NAEYC M.E.N. Interest Forum Champion for Men and Children Award
Dr. Valora Washington is the CEO of the Council for Professional Recognition. Throughout her career Dr. Washington has co-created several institutions, such as Michigan's Children, a statewide advocacy group, the Early Childhood Funders Collaborative, and The CAYL Institute. Frequently tapped for senior-level service, she has been Co-Chair of the Massachusetts Governor's School Readiness Commission; Board Chair for Voices for America's Children; Secretary of NAEYC; chair of the Black Caucus of the Society for Research in Child Development; Co-Chair of the National Head Start Association Commission on 2010; and a member of numerous task forces and boards including of the Boston Children's Museum and Wheelock College.
Prior to founding The CAYL Institute in 2003, Dr. Washington was CEO of the Unitarian Universalist Service Committee and Vice-President of the Kellogg Foundation. She has held executive and tenured teaching positions at institutions including Antioch College and the University of North Carolina at Chapel Hill. Since 2001 she has been a Certified Association Executive with the American Society of Association Executives.
Bryan Nelson, director of MenTeach and co facilitator of the  NAEYC Men in Education Network (M.E.N.) Interest Forum wanted to personally celebrate Dr. Washington: "Dr. Washington is a powerhouse leader that has been an incredible support to men in education through her leadership, professional and career development. For many years, Valora has nurtured, supported and cheered us to stay in early education. You only have to ask any of the men who know her. She is a caring inspiration through her hard work, support and high expectations."
Committed to action research and policy change, she is a co-author or co-editor of over 50 publications, including Children of 2010, Children of 2020, Ready or Not: Leadership Choices in Early Care and Education, and Role, Relevance and Reinvention: Higher Education and Early Care and Education. Examples of effective advocacy include work to change the voucher system in Massachusetts resulting in 52,000 children having opportunities for a one year certification period. Designing and coordinating efforts to change the child welfare system in 13 states, the Families for Kids initiative is regarded as leading to important legislative changes enacted by President Clinton.
Among many honors, she holds honorary Doctorate degrees from both Bennett College and Meadville Lombard Theological School. She was selected for the prestigious Barr Fellowship in 2009. Professional recognition has been received from Boston AEYC; NAEYC Black Caucus; Cambridge Resource and Referral Agency; Center for Adoption Research, University of Massachusetts; National Association of Black Social Workers, United Way of Massachusetts Bay; and others. She was named one of "25 most Influential Working Mothers" by Working Mother magazine in February 1997 and one of Ten Outstanding Young Women of America from 62,000 nominations in 1980. She was educated at both Indiana and Michigan State Universities.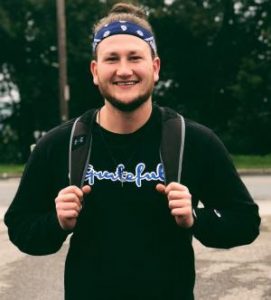 2018 NAEYC M.E.N. Interest Forum Leader of Men and Children Award
Dylan Lubs, a senior at University of Wisconsin Stout will be graduating in Early Childhood education in May. Even before he came to college, he worked with children through youth baseball. He knew he wanted to be an early childhood teacher because he wanted to make a difference in the life of children. Being an older brother, he takes pride in the fact that he is a role model to his younger brother and hopes to be that kind of leader/mentor for young children.
Throughout Dylan's college days, he embraced every opportunity to learn how to be the best early childhood educator possible. Dylan observed and taught in various classroom from birth-3rd grade classrooms, participated in a research project with his professor that examined dispositions of a male early childhood educators by interviewing and visiting male early childhood teachers. Dylan traveled to Nepal on a faculty led experience where he embraced the diverse nature of children and cultures and currently serves as President of the UW-Stout MEN in Education student organization. Dylan's passion for teaching, his natural leadership skills, his willingness to always learn new things, and his kind and gentle spirit serves as assurances that he will make a difference in the lives of young children and their families and his school community. Upon graduation Dylan hopes to teach in first or second grade.