I'm here in Berlin, Germany attending the  The International Conference "Men in Early Childhood Education and Care,"where a couple hundred attendees from all over the world have gathered. About 15 of us were invited to come early to tour one of the more successful pilot programs to recruit more men in Hamburg (a large northern city in Germany).
Men and women from Turkey, Norway, Hungary, Ireland, Scotland, New Zealand and me from the United States. I know several of the people having worked with them or met them before.
For example, Dr. Sarah Farquhar  who organized men in New Zealand and has researched about men in child care toured as did  Kenny Spence..
The event sponsored by Koordinationsstelle Maenner in Kitas, coordinated by Dr. Tim Rohrmann. It's been great to meet Tim and his staff as well as several researchers and staff working on recruiting and training men.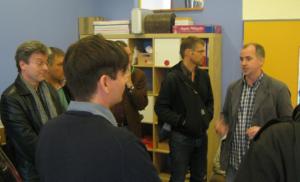 We took a high speed train (220 kph or 136 mph) from Berlin to Hamburg. It was colder than Berlin and a little bit rainy. The Kitas or child care center we visited in Hamburg was one of more than 40 in the city that is part of the campaign to recruit men. According to the program staff they have increased from 9% to 13% since the program started. However this result isn't true for all the programs throughout Germany. It will interesting to see if there are further results.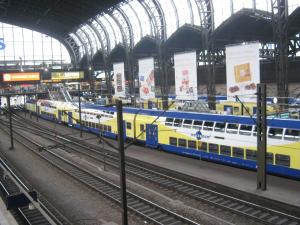 The initiative, which received over 13 million Euros (about 16.75 million US dollars), received scrutiny and some criticism. I've seen this criticism before which is that some believe we are wasting money supporting men to go into early education. That the money would be better spent on women and programs to support more women going into traditionally men's programs. I don't argue that it's definitely important to support women's programs (and there are numerous programs for girls and women). There are much fewer programs to assist men to go into traditionally women's occupations.
The site reminded me of a progressive parent cooperative child care center I worked at years ago. Lots of use of natural materials, an emphasis on project based learning and many hours of outdoor play. There were several men working at this Kitas and interestingly one was from the United States. The program has a language immersion program for English.