A year ago (2007) four of us met in the backyard of Jeffrey Robbins' house near Hanover, New Hampshire.
Last month in late October, 2008, we had seven men on Jerry Parr's porch in Londonderry, New Hampshire. That's almost twice the size. It actually seemed like more things were happening this time around.
Amongst the falling leaves which Jerry encouraged us to help rake, we told tall tales of being one of the tiniest minorities in education – men in early education. Besides eating apples and some really great chili, we started working on drafts of our goals:
Networking and visibility
Recruiting and retaining
Clearinghouse
Leadership development
High goals for a small group. But now we have quite a large listserv and contacts throughout New England.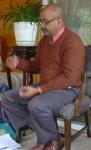 Jerry Parr and Craig Simpson reported on the First World Forum of Men in Early Education in Hawaii in May. They also showed videos from the Men in Early Education in Ireland and Men teachers in Scotland. It was important to give an international perspective. Jerry was on the Leadership team for this Forum. It is wonderful to have him in New England with us.
Recruiting male high school students
Just Holm talked about the Cambridge, MA Mayor's program for getting male high school students to work in city's preschools. This exciting program brought a large group of males to work with young children.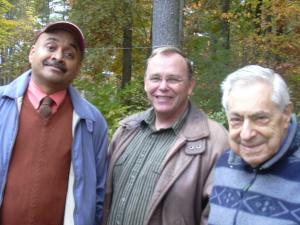 Just Holm (center) with elementary teacher William McLaurin and Ed Klugman – 50 years working for young children and Professor at Wheelock College.
Just also reported on his work with the Schott Foundation and the Cayl Institute in bringing the issue of gender inequity to the Mass. Legislature. After he and others worked on a position statement they are bringing the issue to the Department of Early Education and Care in the Commonwealth.
We also talked about appearing at various conferences and panels at AEYC conferences throughout New England. We are becoming more and more visible in the region with our work. At our annual meeting at the MassAEYC conference in March 27 and 28 in Westboro, MA, we will establish our first annual Steve Shuman – New England Men in Early Education Award named after long time supporter of male child care workers and for his long work for Young Children. Steve may actually be able to come to the Men's reception and meeting and Ed Klugman – over 50 years in Early Education, will give us words of support.
We have high ideas and hopes for the growth of our network and all kinds of links with other groups. We will keep encouraging Directors to look for men in the field and we talked about mentoring some that live in the quiet villages of New England.
Thanks for everyone that was part of this.
Reporting Craig Simpson