At this year's Massachusetts Association for the Education of Young Children (MassAEYC) conference in late March, we held our third annual Men in Early Education reception. This year we had over 50 people attending. Most were there to honor Steve Shuman, a longtime person involved in early childhood profession in Massachusetts and was a pioneer in bringing the issue of gender balance and men in childcare to the forefront.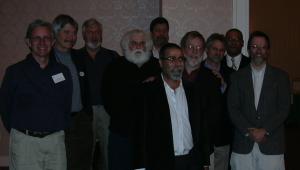 We have launched the first annual Steve Shuman Award for the Support of men in early education and care. We gave this award to Steve and have annual award for men or woman in the field. Steve has been a model for all of us in child care in the state. I used to call him the "grandfather of men in child care in New England until I found out I was a year older then him.
We are continuing his work now that he has retired. He now lives in California and does consulting and public policy work even now.
Craig Simpson
Representing MenTeach – New England (Men in Education Network)