Let me begin by apologizing for the press release-sounding language. We haven't yet had the opportunity to collectively dive into our notes and conference evaluations and I wanted to get something out immediately.
Close to 100 people were on hand at American River College for the Inaugural Northern California Men and Child Care (NorCal MaCC) Conference on Saturday, October 22nd. Inspired by a Men in Early Education Conference hosted by Redwood Empire Association for the Education of Young Children (Redwood Empire AEYC) in 2014 – the NorCal MaCC Conference was brought together by a broad collaboration that included American River College, Sacramento Valley AEYC, Redwood Empire AEYC, Peninsula AEYC, East Bay AEYC, the National Human Development Foundation, the Institute for the Study of Music Making Behavior, Californians for Quality Early Learning (CQEL), the Early Education Action League, and the DAD Project. Additional support for the conference came from Pacific Oaks College and Lakeshore Learning.
Dr. Paul Morehouse warmed the group up with a musical jam session – a tradition since the first men and child care workshop offered by Sacramento Valley AEYC on a rainy day nearly two years ago. Dr. Steven Boyd, the Dean Health and Education at American River College welcomed the attendees with warmth and encouragement. We also held a brief moment of silence in memory of two strong advocates for men in child care, Bev Bos and Allyson Kurtz.
Featured in this full day conference were presentations by Anthony Taylor, a teacher from Step One School in Berkeley and Shaun-Adrian Choflá, a professor from Butte College in Oroville, CA. Both speakers shared powerful and inspiring personal stories. Mr. Taylor's presentation included an historical and contextual examination of the obstacles faced by men wishing to enter the early care and education profession. Professor Choflá challenged us to confront the enormous pink elephant in the room – our own fears and biases as they relate not only to men who teach, but to the larger issues of gender expression.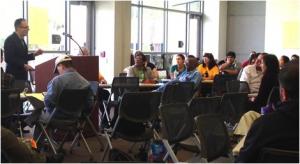 A rather unique feature of this conference was the schedule which provided an hour for facilitated small group discussion following each of the two featured presentations. Conference attendees had a choice to participate in men-only, women-only, or coed small group discussions, or a choice of a small group presentation on male engagement facilitated by the DAD Project. It should be noted that no one chose the women-only option. The Conference planning committee acknowledged from the beginning that this format did, unfortunately, present its own inherent –isms; more on this later.
All attendees received a box lunch and Men and Child Care T-shirt. Lakeshore and the DAD Project donated prizes.
However, it was the Conference attendees themselves that made the day such a success. One group of early educators took the 2 ½ hour drive from Shasta College in Redding. A professor from Mendocino College made the trip, also 2 ½ hours. At least three dedicated souls made the 400 mile trek from the Los Angeles South Bay to Sacramento. Many others traveled to Sacramento from the Bay Area and elsewhere. From bright-eyed early education students to grizzled veterans, everyone contributed energy, enthusiasm, and wisdom.
As the facilitator of the men-only discussion group, I wondered to myself what might make someone choose the men-only group. Would it possibly be the comfort of expressing their viewpoints frankly and openly? Would it be based upon a concern as to how their words might be interpreted by the women? Would it have something to do with gender and power relationships in the Early education profession? Would they be primarily newbies-rookies-neophytes concerned perhaps with a lack of expertise?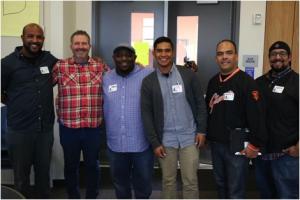 As it turned out, the reason-in-common that these men shared was – they wanted to take advantage of the opportunity to be among men in a work-world where this so very rarely happened. Both men-only groups consisted primarily of veterans, most of them still working directly with children. Primed by the provocative notion that men did indeed possess the desire, skills, and dedication to contribute to the early care and education profession, and to the lives of children, the discussions were honest, profound, and sometimes heartbreaking. We counted at least four future workshop topics that were brought up during the conversations.
While we haven't yet gotten to the evaluations, one participant had this to say, "Really thought your presentation was meaningful, inspiring, and engaging. Our table group had wonderful dialogue and reflections based on your facilitation that revealed unexpected biases and innovative strategies to move past them…"
We will be doing this again!