Around 4% of the current workforce for children's daycare across Scotland are men.
The Scottish Government's new Men in Early Years Challenge Fund will be split into two awards of £25,000 and given to two colleges to run pilot projects which support men in childcare.
Colleges across the country will be able to make bids for the cash, which will be administered by the Scottish Funding Council (SFC).
The money is aimed at increasing the number of men enrolling on NC and HNC Childhood Practice courses.
Just 4.18% of the 1,793 students enrolled in the latter course in 2016/17 were men.
Children and Early Years Minister Maree Todd with a worker and pupil at the nursery (Scottish Government/PA)
Children and Young People Minister Maree Todd announced the fund while meeting male workers at Highland Fling Nursery in Portobello.
She said: "This is a fantastic opportunity for colleges to test out new ways of getting men into the early learning and childcare workforce, supporting our work to diversify the sector and recruit more people than ever to deliver quality early learning.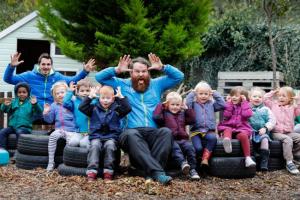 "Increasing the number of men in childcare means children will benefit from different perspectives and have more male role models to look up to."
SFC Interim Chief Executive John Kemp said it is important caring is not viewed as an exclusively female role.
He added: "Scotland's colleges are uniquely positioned to have a positive impact on redressing the current gender imbalance in this workforce, and we look forward to receiving innovative bids from the sector."