Exercise videos boost acceptance of male teachers at kindergartens
Kindergarten teacher "Brother Apple" set out with the intention of keeping youngsters fit during the COVID-19 epidemic, but quickly became an online icon.
Xia Haoyang, who teaches at a kindergarten in Qingdao, Shandong province, kept the nickname his students had given him when he started uploading clips to the Bilibili video-sharing platform earlier this year.
In the clips, the good-looking, well-groomed 23-year-old can be seen doing gymnastic exercises while music plays in the background. The videos are aimed at teaching kindergarten children how to dance and do exercises during home isolation to prevent the spread of the novel coronavirus. But Xia's lively moves, flexibility and healthy image attracted not only children but also adults, with his hottest clip garnering 370,000 views.
Comments under the videos praise Xia's "adorable" moves, which parents and other teachers admit they are trying out. "As a female kindergarten teacher, I have to admit that you dance better than me," one comment said.
Xia said he didn't expect to become so popular so quickly. But he also had a serious message about the acceptance of men in the traditionally female job.
"Uploading the videos was just for fun as well as communicating with colleagues," he said. "I want society to know that male kindergarten teachers are greatly needed and should be respected."
Acceptance
In 2018, only about 2 percent of the 2.58 million kindergarten teachers in China were men, the lowest proportion of all school levels, according to the Ministry of Education.
A 2017 survey by China Youth Daily on how people viewed careers, showed that 53.2 percent of the 2,016 respondents thought sex preference or discrimination existed in the selection of kindergarten teachers.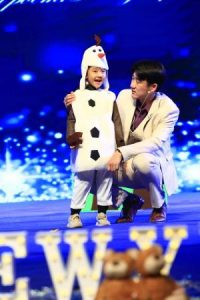 Parents have also expressed concern about sexual misconduct cases involving male teachers or them being too harsh on their students, Xia said.
However, over the past 20 years, more and more people have become accepting of male kindergarten teachers.
One viewer of Xia's videos commented: "My mom is a teacher of early childhood education. She said there were not many male kindergarten teachers but they were very needed, because teachers of different genders have a different impact on children's values and personalities. Both male and female teachers are indispensable in shaping children's characters."
Another viewer commented, "Male teachers are good, because usually children lack the company of male figures in their childhood."
In recent years, several provinces, including Fujian and Hunan, have offered free education and preferential treatment to male students who train to become kindergarten and primary school teachers.
Gu Jie, a male teacher at the Brilliant International School in Beijing, said a colleague called "Brother Sunshine" teaches outdoor physical education lessons to kindergarten children at their campus.
"The children like it when Brother Sunshine plays sports and games with them," Gu said, adding he had not personally experienced gender discrimination.
"On the contrary, male teachers are more popular at the kindergarten," he said. "Most parents expect male teachers to take the same responsibility in the care of their children as female teachers, who are more common in schools. I believe more male teachers will join us in the future."
Too much?
Xin Xiaoyong, a physical education teacher at Guangzhou No 1 Kindergarten, said when he graduated from normal university in 2005, there were already many male kindergarten teachers in Guangzhou, Guangdong province.
"Gender discrimination is not an issue, instead male teachers are treasured at the kindergarten and we receive lots of care and support," Xin said.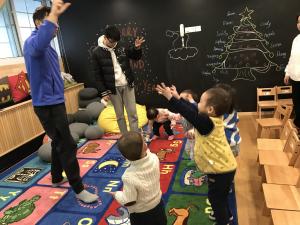 Though most of the comments on Brother Apple's exercise videos are positive, he has received some criticism.
Xin said the gymnastic exercises Xia demonstrated were too advanced for younger children. "Children age 3 to 6 don't have a high level of coordination in their bodies. We cannot ignore the reality of the abilities of the children for the sake of being a popular icon," Xin said.
He encouraged male teachers to display masculine physicality rather than just doing moves to cater to parents' interests.
Xin said male teachers are expected to be professional and humble. "Lots of handsome kindergarten teachers are good at singing and dancing, but we are just normal teachers that provide happiness for children and parents," he said.