Just 3 per cent of the Early Years workforce are men – but London Early Years Foundation (LEYF) is bucking the trend with over 8 per cent of their workforce being male.
LEYF actively recruits men and values the dynamic they bring to children's experience during early childhood. The aim is to have at least two male workers in each of the nursery group's 39 nurseries. LEYF's lead on men in childcare, Konstantinos Skordas, acknowledges that there are many issues that need to be tackled to address this longstanding lack of gender diversity.
'This low representation of men in childcare is due to several factors starting with stereotypes and society's gender norms,' he says. 'Society sees caring roles as belonging to women. This bias discourages men from considering careers in Early Years education – at university, people questioned my choice to work with young children. Another concern is a potential stigma or misconception surrounding males who work in childcare. Then there is the limited visibility of male childcare roles and a lack of targeted recruitment.'
How is LEYF actively challenging this?
LEYF is working to create an environment where men feel more valued and supported in pursuing a career in Early Years education. 'A diversity of perspectives positively influences children's social, emotional and cognitive development." says Konstantinos. "Having male teachers challenges gender stereotypes from a very early age and promotes a more inclusive and equitable society. Children benefit from having male role models, and they enrich the learning environment.'
The nursery group runs its own Men in Childcare group with the aim of bringing male staff together to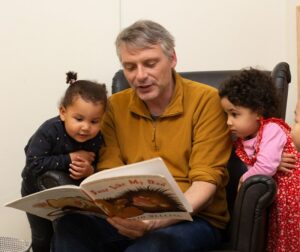 share personal experiences with their peers and consider how to tackle under-representation. LEYF has also run initiatives including a male-only cohort of apprentices (see Case study, below) and ensures that men are represented in all marketing and advertising.
'I think it is also important to emphasise the message that Early Years education can be a very rewarding career path,' says Konstantinos. 'If you are a person who loves working with children there can be great opportunities to progress professionally and I'm an example of this having worked in nurseries, progressing to Nursery Manager and now Pedagogy Manager.'
In order to elevate the status of Early Years workers, LEYF has replaced the terms 'nursery nurse' 'educator' and 'practitioner' with 'teacher'. Konstantinos says this better reflects the role and how teaching very young children is a skilled job.
'I want children to grow up in environments where both male and female caregivers are celebrated for the important role they do in educating young minds,' he says. 'I aspire for a future where 'men in childcare' is no longer a topic of discussion but simply a part of the profession.'
Case study: Liam Erens, Level 3 Early Years Teacher at LEYF's Pembury Nursery
'I worked across all the rooms during my apprenticeship with LEYF to get a feel for each age group and find the best fit and decided on working in the baby room when I qualified,' says Liam, who joined LEYF two years ago as part of an all-male cohort of apprentices.
'I'm an energetic person and also very nurturing so I feel like I'm in the right world. The babies are a joy to be around. It's rewarding to see how much they grow and develop their skills.
I've always had an interest in childcare but I was concerned about how people may judge me so I studied fashion and worked in a cinema before deciding that I needed to find a career I loved.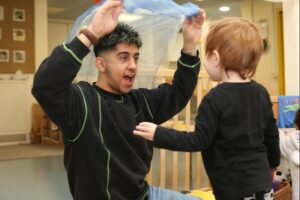 'LEYF appealed to me because the organisation is so welcoming and inclusive. The environment for both the children and staff is very calm because everyone works in harmony. It is less daunting to join a company where there is a focus on recruiting men because I knew there would be other males to talk to and that we could support each other. There are two other male teachers at my nursery and they checked in with me when I started and made me feel part of the nursery community.'
'At first, my friends commented on how I was 'just' looking after children but there is so much more to the role than that and I feel the status of our work needs raising. At LEYF we follow our pedagogy that is inspired by international research into children's learning and development and neuroscience. We are keeping children safe, nurturing them, scaffolding their learning and building the foundations for their life. An inclusive ethos is an important part of this.
'Men considering a career in the Early Years need to know that they will be welcomed with open arms – remember you're there for the children who aren't judgemental, so you just need to be yourself.'
With roles available across London, you can help LEYF to continue their work on increasing the number of childcare now. Go to www.leyf.org.uk/jobs to search for vacancies now.
November 8, 2024