He's tackling a new career – but this time the team is a whole lot smaller.
Former Sharks NRL star Colin Best has traded football for childcare – and loves it.
"It is so rewarding to see the older kids getting ready for big school," he said.
"My main involvement is the maintenance and accounts and admin guy.
"It is challenging and rewarding and every day is different. The kids talk away and can be hilarious in what they do and say."
The father of three children under five owns the Best Kidz Alford Point centre with his wife Emma.
He was inspired to run his own business while deciding what to do when his on-field career – which included 245 games for four clubs including the Dragons, Raiders and Souths – ended.
"Right from the start of my football career I was always thinking what would I do if I didn't have football or had an injury or didn't get a contract," he said.
"I always wanted a small business and work for myself and be my own boss. And this has been fantastic."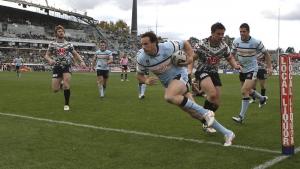 Despite their tender age, some of his star-struck young charges recognise the 2008 Dally M Winger of the Year as a famous footballer.
"When I pop in and do things about the place some of the older kids recognise I was an NRL player," he admits.
Men in early childcare are still uncommon, making up just 3 per cent of the sector's 140,000 employees.
Best is particularly proud that Best Kidz trainee Melissa Knight has just been nominated for the NSW Training Awards Trainee of the Year.
"Melissa is a great find, she has a big future in the childcare industry," he said.
And, for the Best family, the active world of the pre-schooler doesn't end when the centre closes each day.
"Our eldest is five, then we have a four-year-old and a seven-month-old," he said.
"So life is pretty busy."
More than 70 NRL players are enrolled in university or have completed degrees. The NRL has unveiled their 17-strong Academic Team of the Year, including Eels veteran Luke Burt – who has a bachelor of health and movement – and Wests Tigers centre Chris Lawrence, who has a bachelor of commerce.