Mr. Abu Bakar Osman, 28, stood out at a recent scholarship ceremony for childcare educators. In the first batch of 100, he was the only man among a bevy of women.
Industry statistics tell an even more compelling picture of a sector that continues to be dominated by women.
Out of more than 5,600 childcare teachers, only 26 are men, or less than 0.5 per cent of the total number.
A similar situation is found at kindergartens, where a similar percentage of about 3,600 teachers is male.
'I realised there were few men but it didn't faze me as I was too busy enjoying myself in the work,' Mr Abu Bakar said.
He did not think that early childhood education was a job solely for women. 'I've been in the industry for almost five years – it can be a job for anyone. The important thing is what drives you. For me, it's a passion to teach the children.'
It is not just that few men want to take up the job. Even when they do, some parents are unable to accept leaving their children in the hands of a man.
Ms H.N. Chng, a 39-year-old logistics manager with two daughters, one of whom is in a childcare centre, said: 'I don't feel comfortable… we read a lot of news, more and more males are preying on kids – both girls and boys.'
Parents with children in childcare centres told The Straits Times they felt it was safer to have female teachers.
Some said they were fine with male teachers as long as they were not left alone with children and did not participate in the care routine.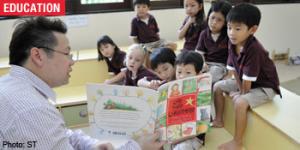 The Ministry of Community Development, Youth and Sports (MCYS) advises male staff not to participate in activities such as bathing, assisting with toilet duties and changing of clothes for the kids.
This is to 'prevent unnecessary disputes between parents and centres on teachers' behaviour', said the ministry.
Centres that hire male staff must also submit guidelines on their roles to MCYS for review.
Some male teachers such as Mr Abu Bakar, who is married and about to become a father, wondered why men could not help with care routines when some are also fathers and husbands.
Ms Yip Kwai Heng, 39, principal of My First Classroom, almost hired a man earlier this year. He would have been the first at the centre at Upper East Coast.
'I found he was actually very open to ideas, very creative and trained in art. He was very passionate about teaching,' she said. But after a mini poll of parents to find out how they would take to a male teacher, she decided not to take him on.
The parents were worried that he would have direct personal contact with the children. Ms Yip understands the parents' concerns but she said it is important to have male teachers to introduce new ideas and teaching methods.
While most of the 779 childcare centres in Singapore do not have even a single male teacher, one branch of Odyssey The Global Preschool has two.
Mr Muhammad Fadly Asis, 31, who teaches art at the pre-school in Wilkinson Road, said: 'Male teachers are stigmatised because sexual offences are usually done by males. Because of that, parents do have reservations.'
His colleague Patrick Terence Lim, 41, who started out teaching speech and drama at another childcare centre, said: 'It's a prejudice that I would like to fight.'
Both men talk to parents and point out their qualifications and experience to allay concerns. But parents are convinced only when they realise the positive impact the teachers have on their children. Both pointed out the upside of having male teachers – boys may find it easier to confide in male teachers and they could be father figures or male role models.
Mr Abu Bakar agreed: 'It'll be beneficial to have a male figure.'
Some childcare operators also said the lower starting pay for its educators compared to those in other fields is a drawback for men.
An MCYS spokesman did not seem too worried about the lack of men. 'We welcome more male teachers if there are, but it's a personal choice,' he said.
This article was first published in The Straits Times.