Minister of State in the Office of the Prime Minister (Gender and Child Affairs) Ayanna Webster-Roy says men will be targeted for participation in the next cycle of the Caregivers Training Programme offered by the ministry.
She made the comment as 31 participants in the latest programme received their certificates during a closing ceremony at the International Waterfront Centre, Port-of-Spain, on Friday. "Don't our males want to be part of caring for our children? The Office of the Prime Minister, within the next phase of training, has made a concerted effort to target males across T&T?" she said.
"We understand that our children, especially our boys, need male role models. Studies have shown that children coming from homes where there are no male parents were more likely to abuse drugs, have their first sexual experience earlier and engage in criminal acts. Our men are just as crucial as our women in caring for our children."
Webster-Roy said over 79 people had applied for the next training programme and were interviewed in the first phase of the recruitment exercise. She did say what date the next cycle would begin, but noted that civil and faith-based organisations and even the Defence Force would be engaged to encourage their male members to apply for training to become male care-givers.
Referring to a series of events involving children recently, Webster-Roy said: "Instead of stories of babies being abandoned in landfills, let our children hear stories of children being loved and cared for even in the absence of their biological parents. Instead of stories of children being kidnapped for ransom, let our children hear stories of children who feel safe enough to play in the streets without worry."
Webster-Roy said she had made several unannounced visits to the St Michael's Interim Rehabilitation Centre in Diego Martin and did not like the conditions which greeted her.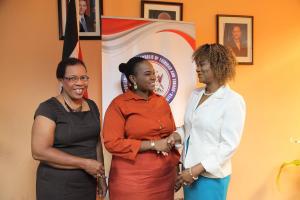 "What I saw I was appalled at and it wasn't the first time. I visited it (the home) more than once and twice unannounced on a weekend with my family," Webster-Roy said.
"The gate was opened and I just drove in and we are paying people to do a service and it should not be about dollars and cents but about making a meaningful impact. Circumstances may not be the best and we provide training programmes at the schools and it is up to the caregivers to make them (boys) turn up. We hope this cadre of people will be more committed."
She said there was room for improvement and everyone had their part to play in doing better as a people and not just depend on Government alone.
She said T&T had ratified the treaty pledging to protect children from economic hardship, sexual exploitation, violence and other forms of abuse in order to advance children's right to education, health care and a decent standard of living.
She said some of the trainee caregivers left their jobs, personal commitments and travelled from diverse places as far as Penal, Sangre Grande and San Fernando to work with the facilitators.
Webster-Roy said with this programme and the Parent/Skill Training Programme for children with disabilities, 42 community residences would benefit from the training programmes offered.
Also present at the ceremony was head programme facilitator Gwendolyn Snaggs, of the T&T Registered Nurses Association, who said there were challenges during the past three months of the course and commended the facilitators on their delivery.